Culinary Arts
---
The Culinary Arts Management program at JJC offers students a first-class education at one of the most highly respected culinary programs in the nation, and in one of the most state-of-the-art facilities in the world.
What Will I Learn?
Through a combination of classroom learning and hands-on experience, students are trained in all aspects of the industry, including cooking methods, pastry and baking techniques, sanitation, management, product ID, purchasing, nutrition and cost controls.
What is Unique About Our Culinary Arts Management Program?
The Culinary Arts Management Program is an accredited program of the American Culinary Federation Education Foundation, Inc. Accrediting Commission.
Our faculty is composed of full-time, multi-certified instructors who have won some of the most prestigious local, national and international awards and accolades, including a World Culinary Olympics gold medal. They take learning beyond the classroom, leading student competition teams and supervising student culinary clubs. Students can also participate in special gourmet events and activities.
JJC students continually come out on top in culinary competitions against some of the best programs in America.
JJC's Culinary Arts program hosted the Illinois State Board of Education's Nutrition Department in April 2023 for a recipe creation and tasting event. The recipes that were created at this event have been distributed to all K-12 schools in the country for use in their school lunch menus.
What Degree or Certificate Will I Receive?
Degree
Certificates
Important Information and Resources
Note: The required lab uniform includes the following items that are a part of the uniform specifications through the approved vendor: JJC white embroidered chef coat, checked pants, white skull cap and white bib apron. Additional requirements include protective non-slip leather shoes, restrained hair and no jewelry except plain band. Quantities of each item and pricing can be found at the link above.
JJC Culinary Student Resource Guide
What are my Career Opportunities?
Joliet Junior College graduates are exceptionally well-prepared for careers in the food industry. Employment opportunities are plentiful for them, locally, nationally and globally. In fact, Disney World and the Marriott Corporation actively recruit JJC students even before graduation.
JJC graduates may eventually go on to careers as bakers, pastry chefs, chefs, caterers, banquet chefs, culinary teachers, bakery owners, wedding cake designers, restaurant or hotel managers or food critics, to name a few.
Job Outlook
Employment of chefs and head cooks is projected to grow 15 percent from 2021 to 2031, much faster than the average for all occupations.
About 24,300 openings for chefs and head cooks are projected each year, on average, over the decade. Many of those openings are expected to result from the need to replace workers who transfer to different occupations or exit the labor force, such as to retire.
Employment
Income growth is expected to result in greater demand for high-quality dishes at a variety of dining venues. As a result, more restaurants and other dining places are expected to open to satisfy consumer desire for dining out.
Consumers are continuing to demand healthier meals made from scratch in restaurants, cafeterias, grocery stores, and other places that sell food. To ensure high-quality dishes, these establishments hire experienced chefs to oversee food preparation.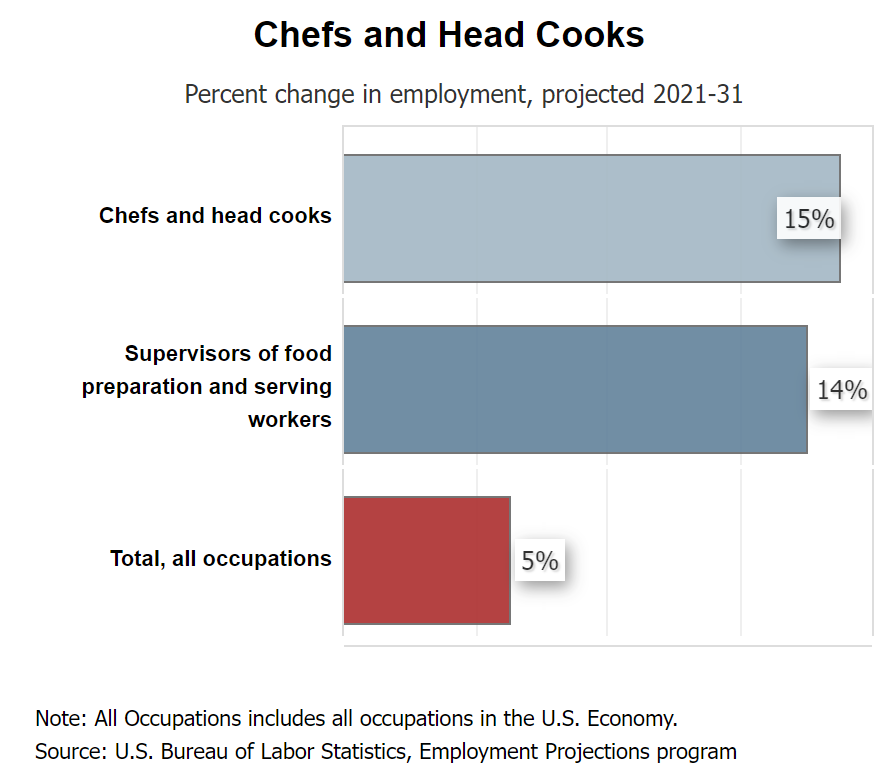 Pay
The median annual wage for chefs and head cooks was $50,160 in May 2021. The median wage is the wage at which half the workers in an occupation earned more than that amount and half earned less. The lowest 10 percent earned less than $30,910, and the highest 10 percent earned more than $84,570.
In May 2021, the median annual wages for chefs and head cooks in the top industries in which they worked were as follows:
Traveler accommodation $61,900
Amusement, gambling, and recreation industries $61,170
Special food services $59,910
Restaurants and other eating places $48,390
The level of pay for chefs and head cooks varies by region and employer. Pay is usually highest in upscale restaurants and hotels, where many executive chefs work, as well as in major metropolitan and resort areas.
Most chefs and head cooks work full time and often work early mornings, late evenings, weekends, and holidays. Some work more than 40 hours per week.
Additional Information
Program Outcomes & Assessment Data

Program Outcomes and Success Measurement Data

Culinary Arts Enrollment
Graduation Outcomes
Job Placement and Employment Data
Program outcomes and success data for:

Student Clubs

The Culinary Arts Department at Joliet Junior College offers a wide variety of clubs where students can participate in special events including the Annual Spring Gala, Farm to Fork, summer International Culinary Tours, restaurant and industry related field trip and many student competitions.

Competitive Cooking Club
Epicurean Club

View the Office of Student Activities webpage for more information on joining clubs.

Student members are encouraged to try out for a spot on the club competition team where they will compete in regional and national competitions.

Mission Statement

The Culinary Arts Management Department of Joliet Junior College is committed to providing quality education and valuable workforce training in an accessible manner to the diverse student population it serves. Through hands-on course work taught by a dynamic and skilled faculty, the program will serve as the foundation for success into entry level technical, supervisory or managerial positions in the culinary and hospitality industries and for individuals who wish to increase their current industry skills. The Culinary Arts Management Department will continue to be a leader in culinary training, skill development and workforce education.