Choose Your Pathway
JJC offers nine customized pathways that separate career clusters into easy-to-understand groupings, making it easy for students to choose a major based on their interests and strengths.
Keyboard navigation tip: Use tab or shift+tab to navigate through the active three pathways in the following carousel, and the arrow buttons to progress to the next and previous groups.
We Make Headlines
JJC is home to new beginnings and exciting adventures, championship teams and innovative ideas. We aim to tell these stories of unexpected opportunities and shared experiences, stories that value and cultivate diversity and help us grow possibilities for our entire campus community.
Our Students Speak Out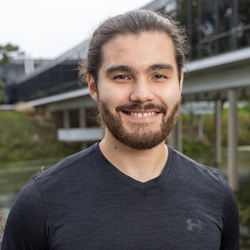 Freddy Ortiz Jr.
JJC has given me the opportunity to build a nice resume.
Learn More About Freddy
Make Joliet Junior College your first choice.
---
Joliet Junior College is an innovative and accessible institution, dedicated to student learning, community prosperity, cultural enrichment, and inclusion. Joliet Junior College delivers quality lifelong learning opportunities empowering diverse students and the community through academic excellence, workforce training, and comprehensive support services.
Join Our Learning Community
What's happening at JJC