---
The Center for Multicultural Access and Success (CMAS) would like to welcome you to Joliet Junior College and congratulate you for taking the next step in your educational journey. CMAS offers a variety of services to assist new students in transitioning to college life. Our department provides leadership opportunities, cultural enrichment, and access to resources to help you achieve your greatest potential. One of the many resources we have is our Peer Mentor Program. The program is designed to help new students learn about the school, where to go, and what to do through an assigned Peer Mentor.
Meet Our 2021-2022 Peer Mentors Below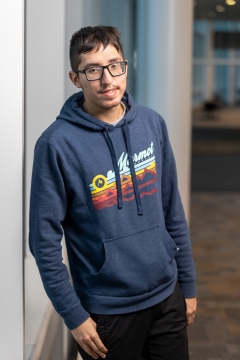 Andre Dagnino Canedo
"My Name is Andre Dagnino, and I'm a Peer Mentor! This is currently my second year attending Joliet Junior College, where I am learning about all kinds of stuff. I eventually plan to transfer to another university to study Biochemistry, a subject that I find both fulfilling and with plenty of potential! Now let me introduce myself a bit more. I am Hispanic, since me and my entire family are from Mexico. We immigrated to the US a few months after I was born in one country and raised in another, I consider myself to be a product of two worlds (which helps a lot, such as being bilingual and allowing me to be a better cook...hahaha!). What I like about the Peer Mentor Program is that it allows me to help others. It's cliché, but it's true - being a Peer Mentor allows me to reach out and assist others as they spend their time at JJC, from helping with some homework, to being a guide to ask questions about our college. It's an extremely crucial period in a student's life, so I take on the challenge of mentoring because I wish to be a beacon of support - someone you can rely on as you navigate this new but exciting path! There are many things I like to enjoy, and there is much that I can do for you, so please - if you're looking for somebody who can be there for you every step of the way, then you don't need to look any further. Thank you, and have a good day!"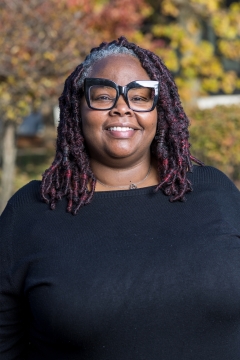 Javonna Stepney
"Hello my name is Javonna Stepney, I have been attending Joliet Junior College part-time since 2017. Now that my children are grown and my grandfather passed away, I realized it was time for me to do something for myself and go back to school to further my education." I'm majoring in Psychology to become a counselor. I have four classes left in order to graduate. After JJC, I am going to continue my education at Governor State or National Louis University to become a counselor. I love going to Joliet Junior College. There are some awesome teachers and advisors at JJC that care and support you. Everything you need is at JJC to make you succeed and advance in your education. Some of my hobbies are cooking, arts and crafts, and learning how to enhance my craft. I love to hang out with my grandchildren and hang out with my friends in my free time.
I am becoming a peer mentor based on the recommendation of Lee McCline."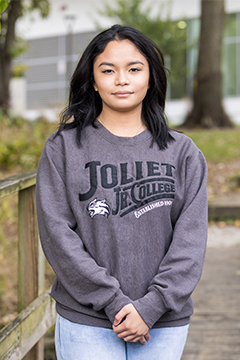 Juell Lagonero
"Hi! My name is Juell Lagonero. This is my second year as a student at Joliet Junior College with a major in Business Entrepreneurship and Marketing. I was born and raised here in Joliet/Plainfield, Illinois. I love spending time with my loved ones and traveling around the world. During my free time, I play video games, binge watch TV shows & movies, and (when I have the money) go shopping! After JJC, I plan to help out with my parents' homecare agency as well as invest in my own real estate agency sometime in the future. One of the things that I love about Joliet Junior College is the friendly faculty and staff members. This is because they are patient and willing to help their students succeed and thrive in reaching their future goals. The main reason why I became a Peer Mentor was because I am passionate about helping people so that they don't get lost or stressed out about their college experience here at JJC. I was once a lost student but with the help of a Peer Mentor, it really helped me get around."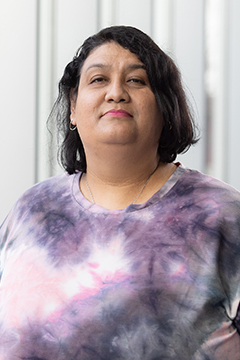 Silvia Vargas
"Hola! My name is Silvia E Vargas. It is my first year at Joliet Junior College, and I am an English Language Learner. My native language is Spanish. I was born and raised in Durango, Mexico. I'm currently undecided what major I should take. I enjoy watching videos and browsing websites on the internet to learn new things. My family, my passion for learning and sharing positive energy are my greatest assets. I became a Peer Mentor to help students to find the right pathway and help look for what it is most beneficial for them to achieve and make their dreams in education and career goals come true"
Click here for more information about becoming a student Peer Mentor or Peer Mentee.
If you have any questions please message:
Lee McCline
Multicultural Pathway Coach
Phone: (815) 280-2631
Email: lmccline@jjc.edu