---

Dr. Clyne Namuo poses with Wiley the Wolf during his first week at JJC.
Dr. Clyne G. H. Namuo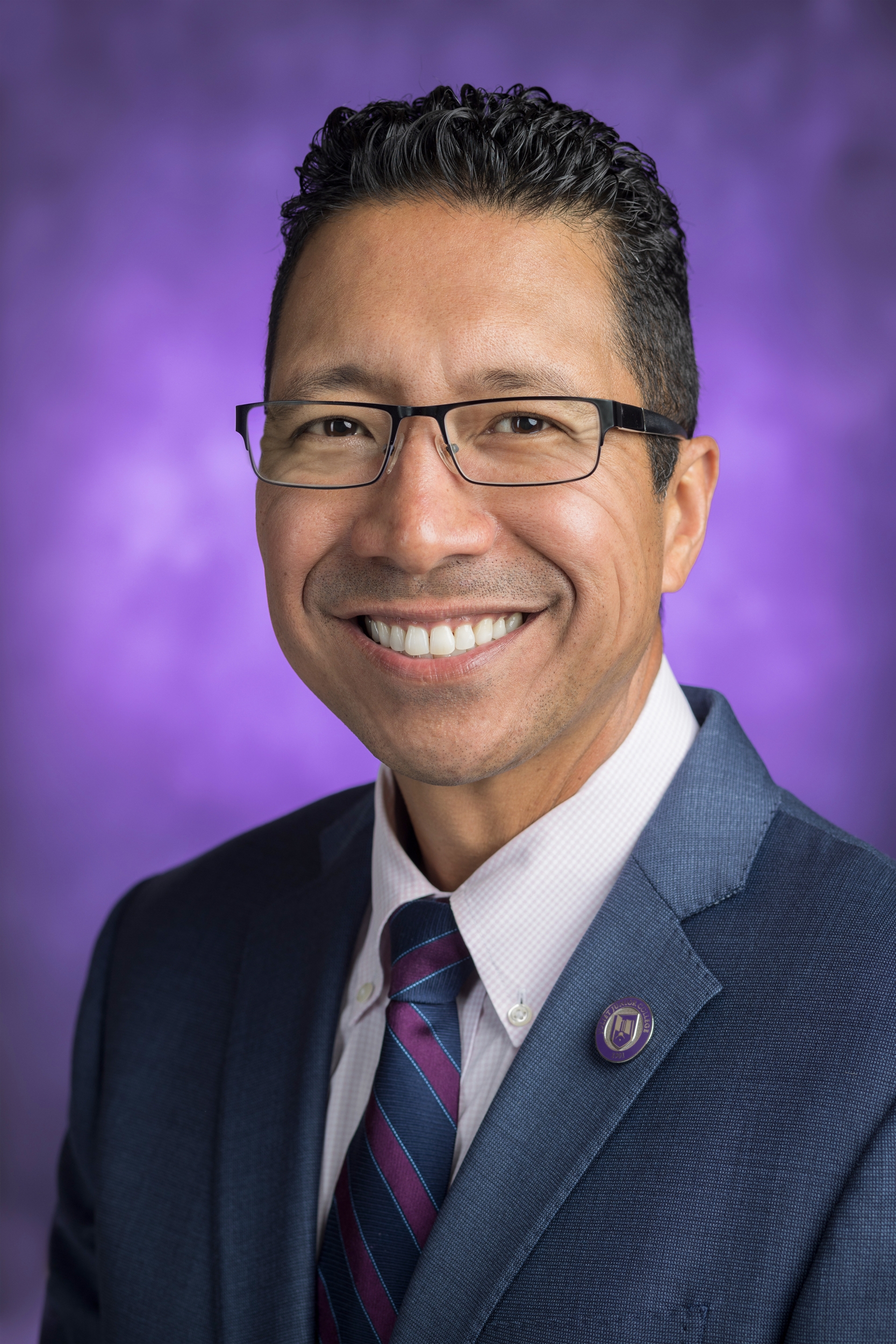 Dr. Clyne Namuo is the 10th president of Joliet Junior College. He was appointed by the Board of Trustees after a national search and assumed the position in July 2022.
Previously, he was the interim president of Phoenix College, the flagship college of the Maricopa system serving the students and communities in and around Phoenix, Arizona. In his time at PC, he led the development of a formal shared governance structure, created the Phoenix College people's project, and initiated the development of a super dashboard to support an aggressive equity agenda.
Dr. Namuo also served as vice president of learning and chief academic officer at South Mountain Community College in Phoenix. At SMCC, he worked collaboratively with internal and external stakeholders to develop a comprehensive academic plan that spawned a number of initiatives including the creation of the construction trades institute, an equity initiative, the creation of mediated classrooms, expansion of mobile technology across instruction, and more.
Prior to joining Maricopa Community Colleges, Dr. Namuo served in progressively responsible roles at Cochise College, a comprehensive community college in southeastern Arizona. These roles included cybersecurity faculty, department chair, and the dean of business and technology, working with industry partners and the college foundation to revamp the residential construction program where students built homes from the ground up on vacant land as part of a city revitalization effort. Dr. Namuo is also an active peer reviewer for the Higher Learning Commission and currently serves as the chair of HLC's diversity committee where he is working to implement an ambitious agenda whereby all peer reviewers will be able to apply an equity lens to their accreditation activities.
Dr. Namuo holds a doctor of philosophy degree in higher education strategy from the University of Arizona's Center for the Study of Higher Education, a master's degree in information systems from San Diego State University, and a bachelor's degree in marketing from the University of Hawaii. Go Wildcats! Go Aztecs! Go Warriors!
Dr. Namuo's commitment to student success and particularly first-generation students continues at JJC, where he announced the creation of the Namuo Family Endowed Scholarship Fund in August 2022. The Namuo family will contribute $30,000 over the next three years and when fully-endowed, the scholarship will be reserved for first-generation college students. The scholarship fund was established to honor his parents and their commitment to his own education while creating a legacy to benefit future first-generation students at JJC.
He is active in the JJC district as a member of Joliet Rotary, board member of Will County Center for Economic Development, board member of Grundy Economic Development Council, and board member of the Greater Joliet Area YMCA. His former community engagement experience includes serving as board president of Habitat for Humanity Sierra Vista, a commissioner for the Industrial Development Authority, a former member of the Sierra Vista City Council's Citizen Advisory Commission, as the former president of the Asian Pacific Islander Association constituency group within Maricopa County Community College District (MCCCD), and executive sponsor of Maricopa's Diversity Advisory Council.
Dr. Namuo is a published author who has written about the strategic direction of community colleges, fiscal constraint, and the strategic strengths of deeply embedded community colleges (Community College Strategy - NorLights Press, 2014). He lives in Frankfort with his wife Tiana and their family of five children (Amel, Charlotte, Kekoa, Maika, Kainoa), each of whom is extraordinary in their own way. He is an avid basketball player and is always looking for a great game.