On Tuesday, Oct. 10, Joliet Junior College officials, local legislators and community members celebrated the grand opening of the final project of the college's current Master Plan: the Romeoville Campus Expansion.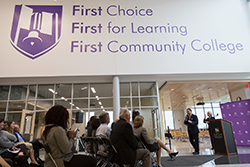 "Today's celebration marks the conclusion of several years of planning to further develop our presence in the Village of Romeoville, where we offer increased educational opportunities to the surrounding communities," said JJC President Dr. Judy Mitchell. "Today's event is truly a reaffirmation of our commitment to teaching and learning, and to continuing our strong partnership with the Village."
The new building, the first major construction on the college's Romeoville Campus since it opened in 1993, added more than 49,000 square feet to the campus.
The expanded facility provides new and enhanced amenities for students, including:
Enrollment services
Counseling
Financial aid
Testing and tutoring
Bookstore
Cafeteria
Laboratories
Disabilities services
Career Services
Student activities
"On behalf of the Village of Romeoville, I want to thank you for everything JJC does for Romeoville," said Romeoville Mayor John Noak, who also spoke at the grand opening. " Thank you for continuing to invest in this campus and the community; we are fortunate to be partners with you."
Students are now able to complete a full associate of science (A.S.) degree (a transfer degree), entirely at the Romeoville Campus without coming to Main Campus. Opportunities also exist to complete an associate of arts (A.A.) degree at the expanded campus, a transfer degree for many majors including business, psychology, social work, pre-law, and others.