Grundy Workforce Services, a program of Joliet Junior College, has been named the Organization of the Year by the Grundy County Chamber of Commerce and Industry.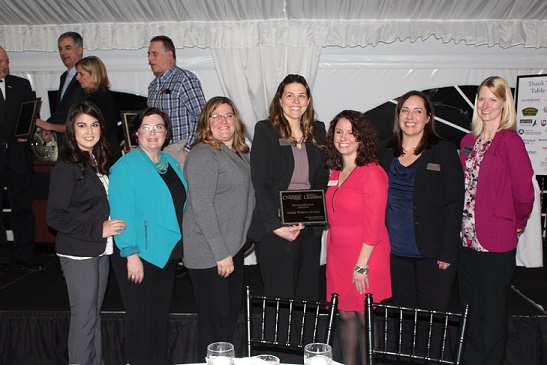 The award was presented March 21 at the Grundy Economic Development Council (GEDC) and Grundy Chamber of Commerce and Industry annual dinner.
"In the last fiscal year Grundy Workforce served more than 150 people with their high school equivalency, providing training in high-demand areas, setting them up with internships right here in Grundy County, and just getting them into a better career," said Christina Van Yperen, executive director of the Grundy County Chamber of Commerce and Industry. 
Grundy Workforce Development, located at JJC's Morris Education Center, is a program offered within the college's Workforce Education Department. Its services aim to meet both the needs of local businesses, job seekers and those who want to further their careers.
In her speech Wednesday, Van Yperen noted Grundy Workforce's efforts in preparing students for GEDC's internship program and improving people's soft skills as part of the chamber's Certificate of Employability program.
"Thank you for recognizing our work and dedication at Grundy Workforce Services," said Sarah Hintze, Workforce Skills and Morris Education Center manager. "Grundy Workforce has been around for 13 years. Something you will hear in our office often is we change lives.  We don't save lives.  We are not doctors or nurses.  We are there to help change their lives, provide them with the education or skills to change their lives. There are days that can be challenging, but there are many moments of celebrations."
In addition to Grundy Workforce Services, The Morris Education Center also offers day and evening credit and non-credit courses, and continuing education opportunities.  Learn more online.
For more information contact Scott Harvey, communications and media coordinator, at 815-280-2844 or sharvey@jjc.edu.