All good things must come to an end.
Joliet Junior College Head Baseball Coach Wayne L. King, Jr. will enter his 33rd and final season this spring. King's official date of retirement from JJC is May 31.
Coach King will leave an incredible legacy for not only the baseball program, but 24 years as the director of athletics.
King attended Ohio University on a baseball scholarship where he was a four-year starting catcher. While earning his bachelor's and master's degrees, King spent six years as the Bobcats assistant baseball coach for then-Head Coach Jerry France.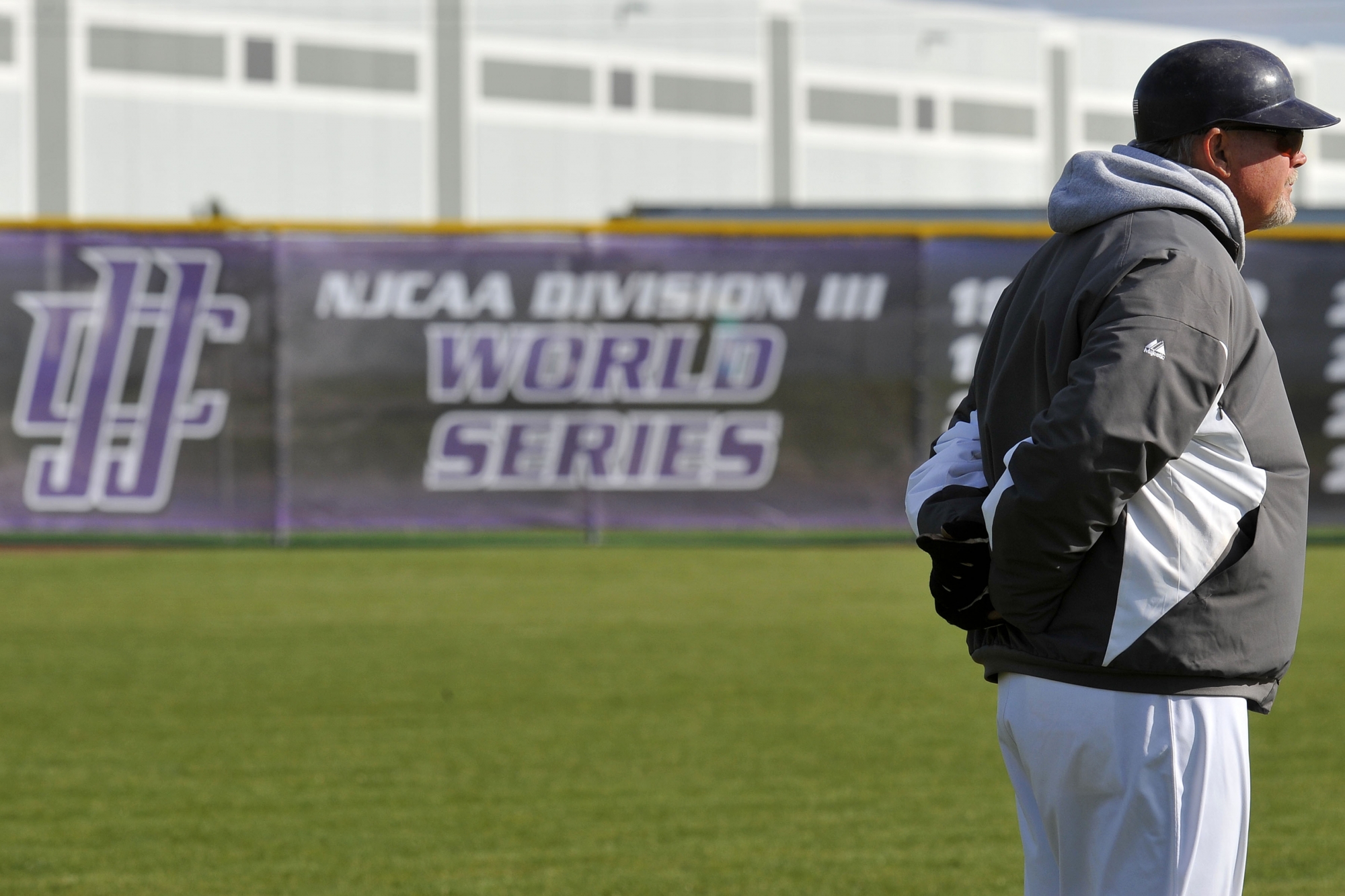 "I owe Coach France everything. He gave me an opportunity to get my master's degree and be his assistant at a NCAA Division I baseball program," King said. "Coach France taught me how to run a program and how to recruit. I was able to see how other Division I programs were run. He took me under his wings; I will always be indebted to Coach France. The very valuable experiences that I learned with him have been within our program here at JJC all of these years."
In the fall of 1986, the head baseball coaching position opened up at JJC. You could say it had destiny written all over it.
"When I was coaching at Ohio University, I had a player whose father knew then-Director of Athletics and Head Football Coach Tom Horne at JJC. Tom and I talked about this opportunity and I accepted. I knew that it was time to get a head coaching position by my name."
"This position was planned to be a short stop to broaden my coaching resume," King stated. "I told my wife, Janine, that we would come here for a short time and I would try to find a job back in Ohio where both of our families live. Janine has eight brothers and sisters who all live in Zanesville, Ohio. I still feel bad about this; 34 years later and we are still in Joliet. She did this all for me and my career; she is the best wife that anyone could ask for. We stayed because baseball was going very well and I was offered the Director of Athletics position. JJC believed in me and I hope that I have represented the college in a first class manner throughout the years."
King boasts the most coaching wins in JJC's history with an overall record of 1105-715-2. He also holds the NJCAA Division III coaching record for wins. During King's tenure as Wolves head coach, he has guided his teams to three NJCAA national championships (1994, 2008, 2012), three national runner-up finishes (1995, 2007, 2015), and two third place finishes (1997, 2006). He has made 12 total NJCAA World Series appearances, has earned 16 Region IV Division III tournament championships and claimed seven N4C titles.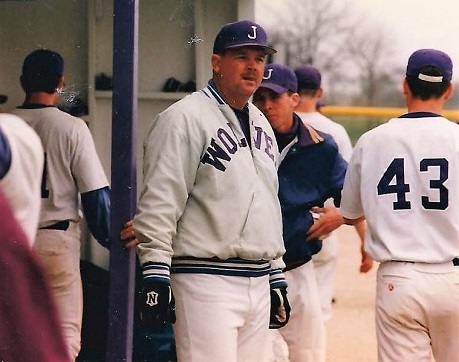 "Some of my fondest baseball memories at JJC include obviously the teams that won national championships," King said. "Whenever you take a team to the national tournament, there will be extra time spent together which produces more stories that you always talk about. But the best might be the 2012 national championship team. I did not think that they were strong enough to even win our regional. We were 28-28 when playoffs started and won the next 9 of 10 to become national champions. Everything came together for that team at the right time. I was so pleased for them."
"I hope that I am remembered for having a great relationship with my players. I treated everyone the same. Hopefully I taught them more about life and baseball. I wanted them to have a solid two-year career at Joliet and then move on to a four-year institution. With all of my teams, we have had a lot of fun along the way. To see the guys now, married with kids, makes me feel great. I truly enjoy when guys will call or e-mail out of the blue just to check in. It makes me feel good that they still care about me and their time at Joliet."
Without question, King's coaching success has not gone unnoticed. He has been voted Coach of the Year in the competitive N4C Conference seven times. For the Wolves success in 1994, 2008, and 2012 he was named NJCAA Division III National Coach of the Year, Coach of the Year for the Division III World Series and District B Coach of the Year. King was also inducted into the Illinois High School Baseball Coaches Association Hall of Fame in 2015.
In 2009, King was inducted into the NJCAA Baseball Coaches Hall of Fame for his career coaching accomplishments. During that same year, the JJC baseball field was officially named Wayne L. King, Jr. Field at a ceremony.
"Currently, Steve Ruzich (South Suburban College) and I are the longest standing coaches in Region IV baseball. The funny thing is, that many of the coaches today that we coach against were players in our region at one time."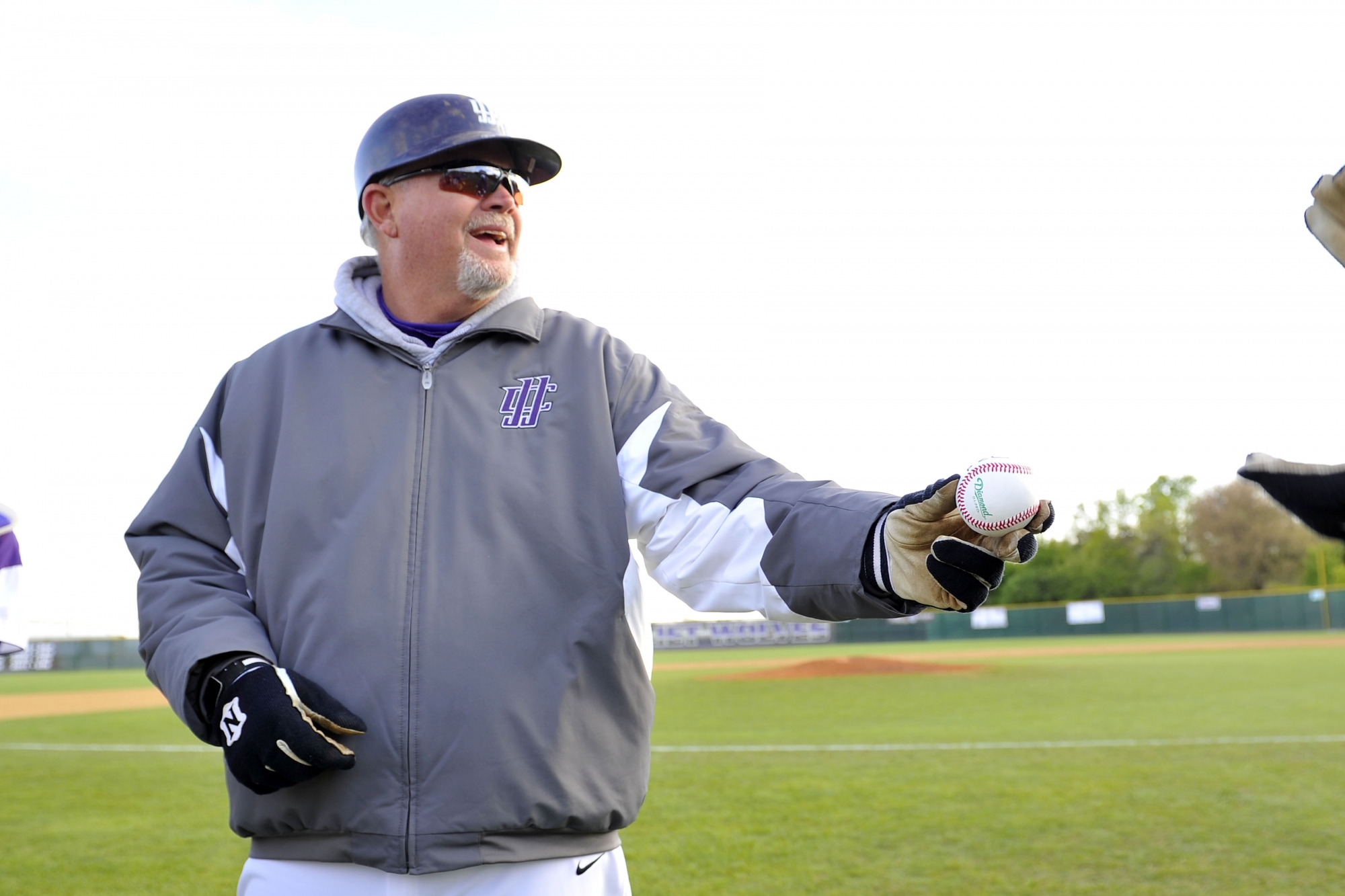 "I am very appreciative of the respect that our region and national coaches show me. They know that we have a strong program and do things the right way," King stated. "There are some good, young coaches in our region that I hope will have successful careers. Nationally, having been to the World Series many times, those coaches show the same respect for me and our program. It's a nice feeling."
Coach King has had numerous players transfer on to four-year colleges to continue their baseball careers. Two players, Jim Scheffler and Ed Koncel, were drafted by Major League Baseball teams right out of JJC.
"I think that our kids have done well at the next level. When a four-year coach has signed one of our players, I believe they will be calling back to ask for more players," King said. "We try to have them ready to make the jump: teach them about the game, have a good work ethic, and do things the right way. We also try to place them at the level where they will do best. Not everyone can go Division I."
Wayne was inducted into the Region IV Hall of Fame as an administrator/coach by his fellow Region IV athletic directors in 2004. He was also named into the Beaver Local High School (East Liverpool, Ohio) Hall of Fame in 2008 where he earned 10 varsity letters in football, basketball, and baseball.
King was named the JJC's director of athletics in 1995.
"Being a baseball coach and the athletic director was the best situation that I could have," King stated. "Our season is last in the spring. I could focus on all of the other sports and address any needs from my coaching staff. I wanted them to know that I cared and wanted the best for their programs. It makes you feel good when your coaches come and ask for your advice. I have enjoyed watching all of our teams throughout the years."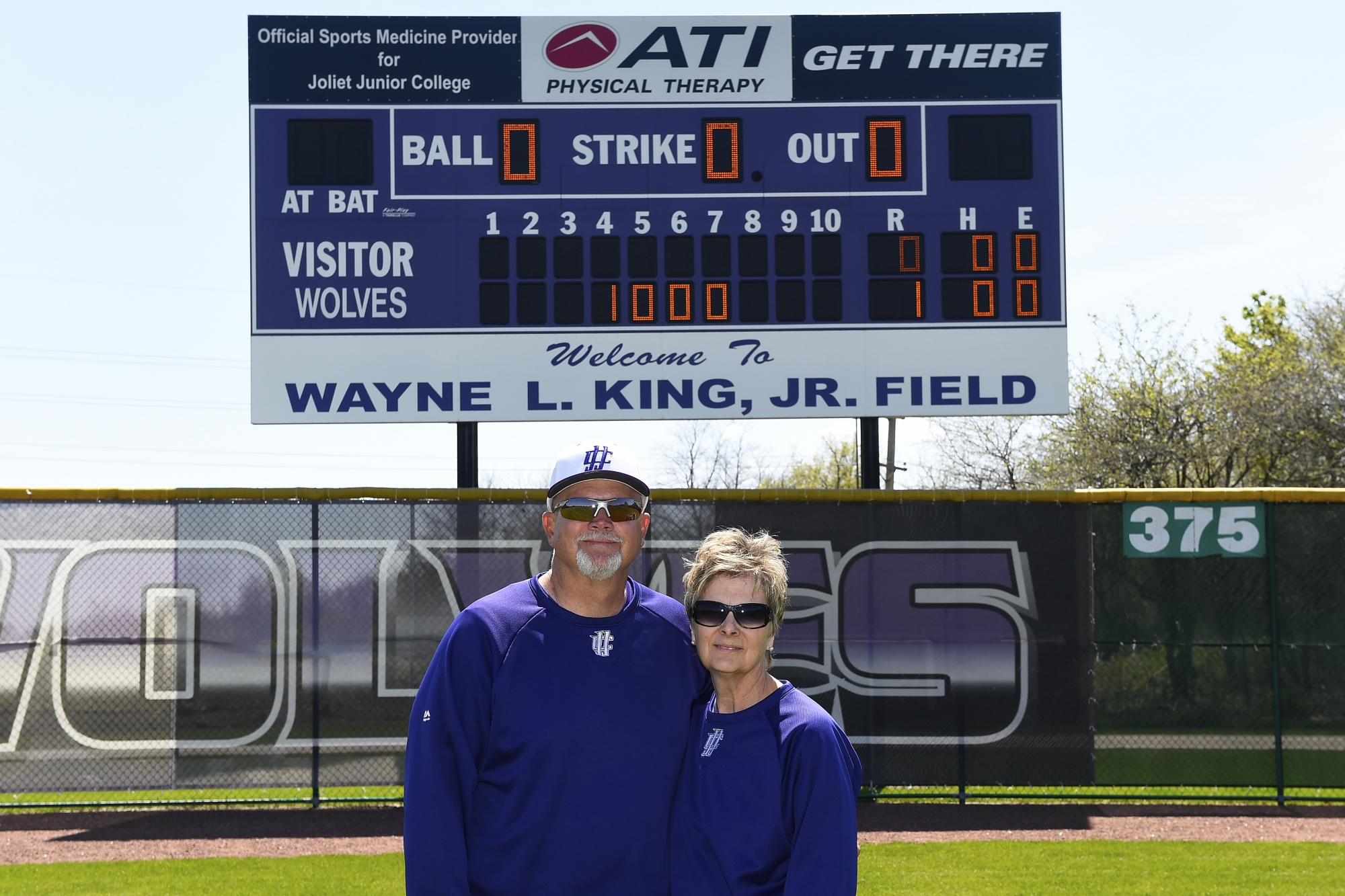 "One of the biggest accomplishments as athletic director would be the JJC Event Center. Our facilities were not great here until the new building came; just in time for my retirement! Our building is the best in the region and will continue to compete with many four-year colleges' facilities."  
"I truly have enjoyed watching our athletes perform. We have had many athletes transfer to big time schools and have had several play in the NFL. We have had coaches move on to bigger coaching positions after their stint here at JJC. We have won national championships in several team sports and individual athletes win national titles. It makes you proud as an athletic director when you put quality athletes out there to represent our college."
So many people have been instrumental to Wayne King's success at Joliet Junior College.
"I would like to thank my wife, Janine and my children, Stacey and Kelsey for supporting me during this journey. I would like to thank the college's past and present administrators for believing in me as well as my coaching staff. Good coaches make things a lot easier. My administrative assistant, Stephanie Kneip, and I have worked together for 18 years; I couldn't have done this without her. My parents have always been supportive of my career as well. Lastly, I would like to thank all of the coaches and players that we have had in our athletic program all of these years. When you surround yourself with good people and players, it certainly makes you look better."
Coach King's last home game will be on May 4 to end the 2019 regular season. The doubleheader against the College of Lake County will be his final regular season home game as head coach of the Wolves. All former alumni will be invited out that day to celebrate his career.
The new head baseball coach will have some large shoes to fill.
"I would like to wish the next baseball coach good luck. Be yourself and build your own program. Start new traditions. Don't worry about what JJC was when I was here."
The Joliet Junior College Athletic Department will honor Wayne L. King, Jr. for his career accomplishments on June 21 with an retirement celebration at 176 West Banquet Facility in Joliet, Il. Tickets will be $40.00 per person that can be purchased online at https://www.jjc.edu/wayneking. A limited number of tickets will be sold for this event on a first-come basis.  
And so one door shuts and another opens. An incredible legacy left behind.
"It is hard to think about things closing until the end has come, King said. "I would like to think that I was fair, honest, open, and that I cared. I never sugar coated anything and my door was always open. I guess I wasn't that bad of a baseball coach either."