Joliet Junior College's Integrated Education and Training (IET) model is motivating students to earn their High School Equivalency (HSE) while seeking a certificate of completion.
With IET, adult education and literacy students can take courses concurrently and contextually alongside workforce preparation activities. It's a collaboration between JJC's Workforce Education and Business departments, which in December honored their second cohort to complete the program. Throughout the summer and fall semesters, 14 students sought certificates of completion in global supply chain management as part of the hybrid offering.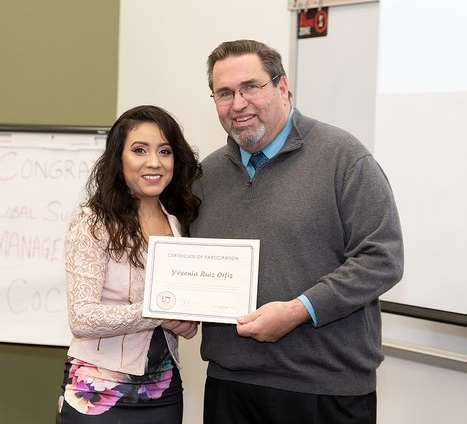 View photos from the December event. 
"At the beginning, it was difficult for me to work full time, attend classes three days a week and my GED [General Education Degree] class on Saturdays. But I told myself I could do it!" said Yesenia Ruiz, 26.
Ruiz came to the U.S. at age 19 from Guanajuato, Mexico. She got started in JJC's English as a second language program, and also began taking citizenship classes.
"On my last exam my teacher motivated me to continue my education because he believed my English level was very good. I decided to enroll in GED classes and the opportunity of supply chain management," Ruiz said.
"My language arts instructor encouraged me to do it," said Matteson resident Anh Nguyen, 21, whose plan to become a firefighter required getting his HSE. "Plus, it was an amazing opportunity to get to experience a field that I never would have even bothered to look for. I didn't even know it was something I could go into!"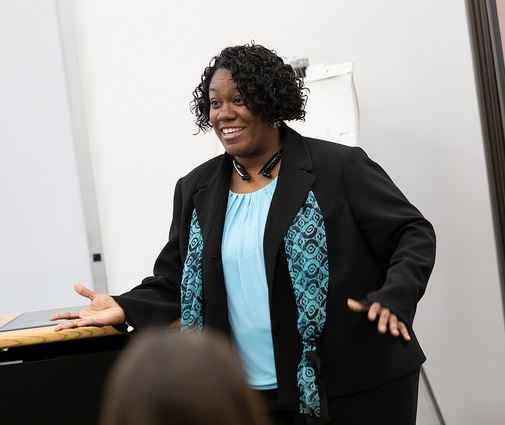 Helping guide the cohort is Angela Logwood, an adult education instructor and IET support teacher. She splits time between preparing students for their High School Equivalency, as well as team teaches their certificate course alongside JJC business professors.
"Observing the students' experience is priceless," she said. "I don't think they themselves thought that they could do it, but they realize when they actually see the results on paper. I tell them all the time that this is your hard work that you put into it and there are some students traditionally that are not able to accomplish these gains that they have."
Students acknowledge that pursuing their HSE while seeking a certificate of completion was challenging, but also rewarding.
"Because they see that they're making such gains in their credit courses so it pushes them to spend that extra time to complete that high school equivalency and be able to use that certificate in supply chain management," Logwood said.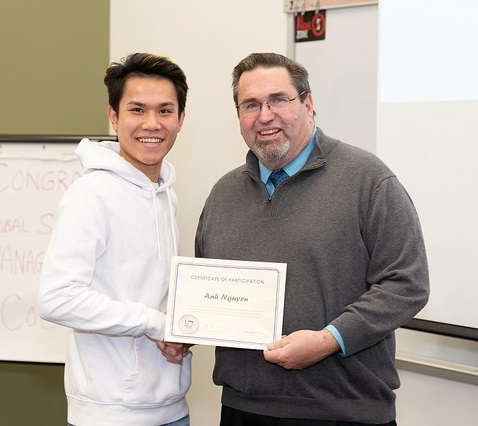 The students' commitment to the program has left Adjunct Business Professor Jim Revis astounded.
"It's a dedicated bunch," he said. "I've had two cohorts go though and both have been amazing in terms of the time they put into it."
Both Nguyen and Ruiz note how their classmates also played a big role in their success.
"You also have copious amounts of support," Nguyen said. "Not just from the faculty and staff, who really do want you to succeed, but also from your cohort."
"I admit it was very hard," said Ruiz. "But I was able to accomplish my goals thanks to all the supportive people in my life, such as my teachers and my classmates. Without mutual support we would not have achieved it."
Classes will continue for some cohort graduates, as the IET model features stackable college credentials. Ruiz is now working toward her certificate of achievement in management and supervision. Some from 2017's first cohort, such as Sandra Zarazua, are now seeking associate degrees.
"I hope that we're able to successfully push more students through the program," said Logwood. "We have two successful cohorts and I hope we are able to reach more students."
JJC's Workforce Education Department has its sights on expanding the IET model to other departments. For more information, contact IET Coordinator Michelle Lyman at 815-280-1335 or mlyman@jjc.edu.
For media inquiries, contact JJC Communications and Media Coordinator Scott Harvey at 815-280-2844 or sharvey@jjc.edu.