Sante Deserio, Joliet Junior College's student trustee, concluded his one-year term April 11 following the regular meeting of the Board of Trustees.
Deserio will graduate this fall with an associate in arts. The 21-year-old from Crest Hill has narrowed his list of potential transfer schools to two, where he'll pursue a bachelor's in political science.
Deserio said he's proud to have served as a bridge between his fellow students and the JJC board and administrators, a goal upon starting his term in April 2017.
"I saw a great opportunity to make sure the administration and the Board of Trustees knew how students were feeling on certain issues as it pertains to the college," he said.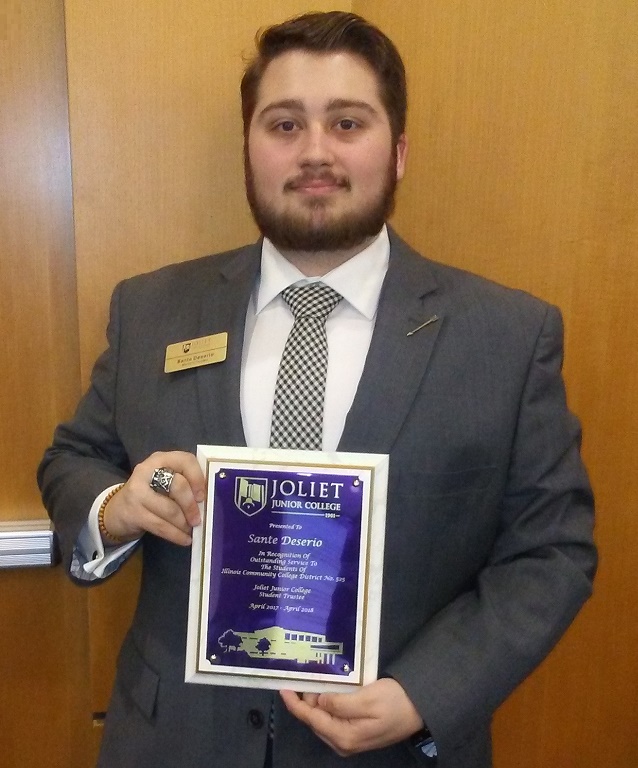 A student representative, appointed annually, is a non-voting member of JJC's seven-member governing board. Deserio attended regular meetings and workshops and delivered reports, keeping the board abreast of student initiatives. He also served as an advisor to the board on important student issues, including decisions on tuition and program fees.
"I believe there's been an increase in engagement between the administration and the student body," he said. 
Another goal of Deserio's for the year is to establish a new service that assists food insecure students. He is working with the dean of students and other JJC departments to establish a micro food pantry on campus.
"It's for students to be able to use if they're in between meals and don't have the financial means to provide for themselves."
Deserio, who is also a representative with Student Government, said his involvement on campus and with the board will be beneficial moving forward.
"It's definitely grown my communication and networking skills. The experience has given me the skills to be more of a self-starter and achieve my goals."
Board of Trustees Chairman Bob Wunderlich presented Deserio with a plaque recognizing his service at the board's April 11 meeting.
"It's been a pleasure working with you the past year," Wunderlich told Deserio. "You've done an excellent job as a student trustee – one of the best."
Deserio said he came to JJC because of its affordability and an opportunity to stay in his community while still working toward a degree. He's come to love JJC in how it operates like one big family.
"It's a community effort to help the students that come through the door," said Deserio. "And a great opportunity for students who might not know what they want to do and come find out why JJC is the first choice."