JJC nursing students Amanda Fazekas and Cortney Hauck have earned the program's 2021 Citizenship Award.
Nursing faculty select two students each year for the award, which is given to those that demonstrate outstanding qualities in the categories of attitude, academics, character, community service, and school spirit.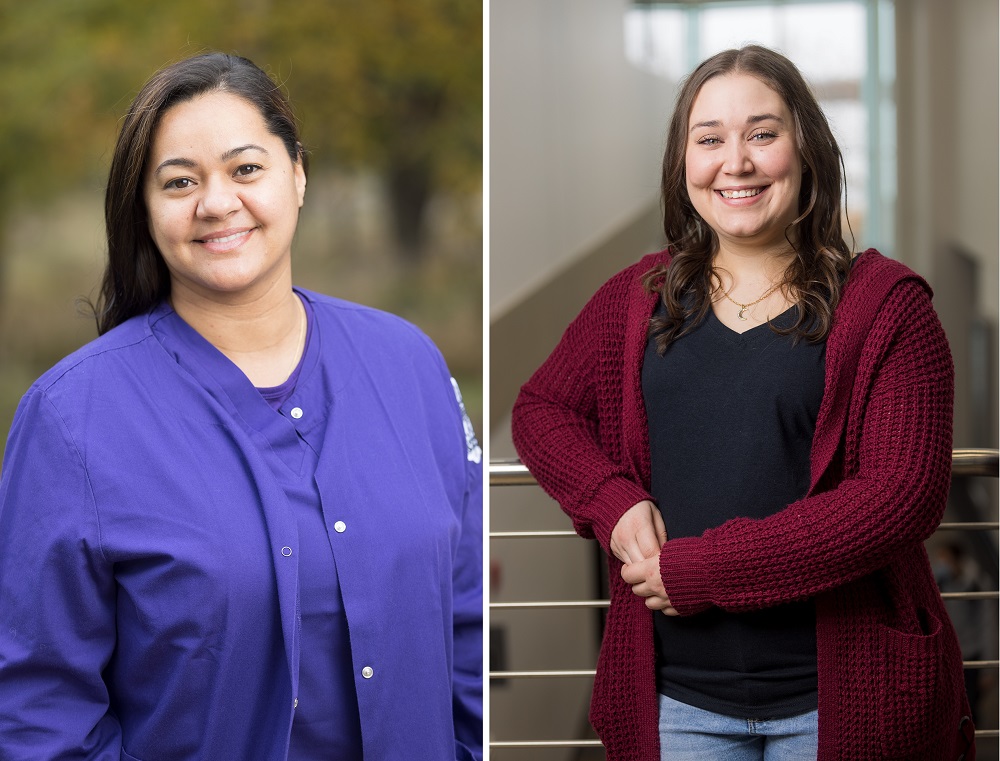 For Fazekas, 40, and Hauck, 30, being currently employed in healthcare during the pandemic has further motivated them to complete their schooling. 
"As a phlebotomist working in the hospital, I've witnessed first-hand the heroic work of the nurses," said Fazekas, a native of Sao Paulo, Brazil. "I also witnessed the strain they were under due to staffing shortages. There were so many times I wished, so hard, that my studies were complete so I could jump in to help. I guess it's fair to say I can't wait to get started."
"I've never felt better about becoming a nurse," said Hauck, from Morris. "Working in a hospital, I see every day the struggles that staff are working with being understaffed and I cannot wait to join the nurses I've been working with and help fight this pandemic." 
The two students lead busy schedules. On top of their classes and full-time jobs, both Fazekas and Hauck are mothers of two children. But as healthcare employees, they still have the opportunity to contribute to their communities.
"I have always felt that health care is one of the purest ways we can serve, and show humanity, to each other," said Fazekas. "There's an enormous satisfaction I'm already starting to feel as I've begun my clinical rotations in a local hospital, working with real patients. I know I made the right choice to become a nurse."
For aspiring nurses who are driven to help others, Hauck's message is to never give up. 
"Nursing school isn't easy by any means, but it is worth it. I have met people in my classes that I know are going to be lifelong friends. Don't let this pandemic deter you from going after your dreams. We need nurses now more than ever!" Hauck said. 
She adds that JJC is a great place to start, given the respect the nursing program has and experience it provides. Fazekas adds that nursing graduates are highly sought after by employers. 
After JJC, Fazekas looks forward to working at a local hospital in a labor and delivery or emergency room setting. Hauck will pursue her bachelor's in nursing from the University of St. Francis, and has her sights on a master's degree.
For more information on JJC's nursing program, visit www.jjc.edu/nursing.
For media inquiries, contact Communications and Media Coordinator Scott Harvey at sharvey@jjc.edu.