Do you know someone who should be recognized for their extraordinary service to the community? Joliet Junior College is seeking nominations for its annual J.D. Ross Extraordinary Service Award (ESA). Award nominations are due by Nov. 5, 2021.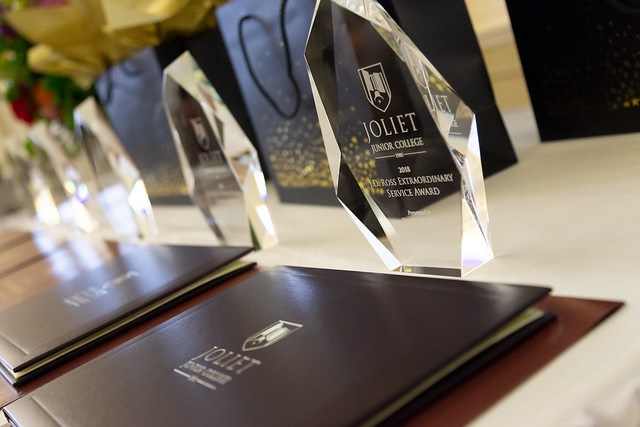 Established in 2004 by the JJC Board of Trustees in honor of President Emeritus J.D. Ross, the award recognizes outstanding community service performed in Illinois Community College District 525 in the areas of:   
Humanitarian Service - promotes social reform, human welfare, aids society through philanthropy, etc. 
Distinguished Public Service - non-paid service through business, government, organizations, etc. 
Scholarly Service - academic achievement or studies, etc. in making a difference for the greater good. 
Creative Attainment - originality and expressiveness, etc. in making a difference for the greater good. 
Community members are invited to nominate an individual who should be recognized for extraordinary service in one (or more) of the areas named above. 
The J.D. Ross Extraordinary Service Award is the highest honor bestowed by the college. Previous recipients include Lynne Lichtenauer, Glen Marcum, H. James Baum, Louise Ray, and Brother James Gaffney. View all ESA award winners through the years.  
View the complete nomination guidelines.  
All nominations must be received by 5 p.m. on Friday, Nov. 5, 2021. Nominations received after that date will be considered for the following year. Individuals can be nominated online through this form. Nominations can also be mailed or hand-delivered to the Communications & External Relations Office, Room A-3115; 1215 Houbolt Road, Joliet, Ill., 60431. 
District 525 encompasses large portions of Will and Grundy counties, as well as southern Kendall County, northern Livingston County, southeastern La Salle County, southeastern DuPage County, and northwestern Kankakee County. 
For more information, contact Carly Ringo at 815-280-2659 or email communications@jjc.edu. 
 
Complete Nomination Form