Three JJC culinary arts students brought back top honors at the Second City Culinary Challenge. The American Culinary Federation sanctioned competition was held at the College of DuPage January 26 and 27.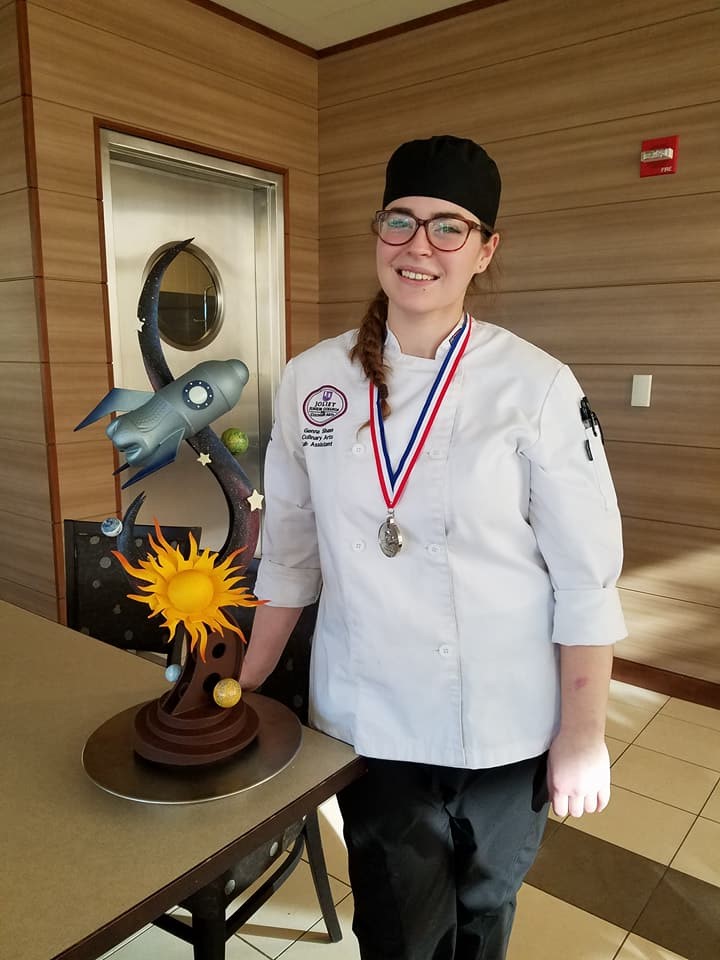 Sophomore Allison Sims won the gold medal for best overall score during the two-day competition. Classmates Rob Carter and Genna Shaw earned silver for overall score and chocolate showpiece, respectively.  
Winning the gold medal was a big accomplishment for Sims.
"I've been interested in culinary arts for as long as I can remember. Food has been a huge part of my life," she said. 
Sims and Carter competed individually to prepare an entrée for the judges, which had to be completed within one hour. Competitors had time to do trial runs of their recipes prior to the event. Sims said she practiced making her dish for three weeks beforehand. 
For Shaw's category, she had to design and build a structure entirely out of chocolate. Hers was a rocket. 
This was the first competition for Shaw, who credits her success to Chef Andy Chlebana. The culinary arts professor showed Shaw that with a little time and creativity you can create just about anything out of chocolate, she said. 
"And not only that, he prepared me mentally for the competition by not letting my nerves get the best of me and always making sure that I was confident in my showpiece," Shaw said. "I am very grateful for everything Chef Chlebana has done, and that he would take his free time to help me prepare for this competition."
Shaw said she began practicing for the competition over the winter holiday break, drawing multiple designs and practicing her rocket a few days a week.
The JJC Culinary Competition team will be in Madison, WI this weekend for the Central U.S. Championships. Emma Prucha will be there competing for the title of Top Student Chef in the Central U.S. Ryan Clemente will be competing in the Sturgeon Bay Fire and Ice Festival, an ice carving competition.
 
For more information contact Scott Harvey, communications and media coordinator, at 815-280-2844 or sharvey@jjc.edu.