Joliet Junior College has signed an agreement that advances sustainability practices throughout the region.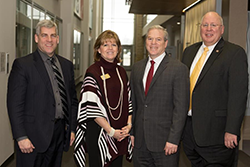 JJC joined Lewis University and the University of St. Francis Jan. 23 in signing the Will County Regional Sustainability Alliance Agreement. It took place during the GreenTown Will County Advisory Council held at Joliet Junior College. 
"I am proud to support and work with our Sustainability Committee, as well our sister institutions by promoting initiatives such as GreenTown Will County," said JJC President Dr. Judy Mitchell.   
 
Together, the three schools will serve as non-financial champions of the Will County Regional Resilience Network. They'll help grow network efforts to link and align local sustainability practices, build and leverage relationships, and establish supporting infrastructure. 
 
The agreement further demonstrates JJC's commitment to sustainability and the communities it serves. Sustainability is one of the college's seven core values.
"JJC embraces sustainability throughout our campus and community with our commitment to environmental, social, and economic improvement," Mitchell said. "Supporting the Will County Regional Resilience Network is another representation of our support for the JJC community."
For more information contact Scott Harvey, communications and media coordinator, at 815-280-2844 or sharvey@jjc.edu.