Joliet Junior College professor of nursing, Kelly Tisdale, has been selected as a Nurse Educator Fellow by the Illinois Board of Higher Education for her contributions in the field.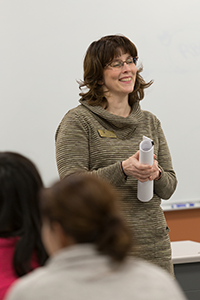 Tisdale is one of 19 distinguished educators in the state of Illinois selected to receive the honor for 2017. 
"I am passionate about my faculty orientation project and was happy to hear that the Illinois Board of Higher Education thought it was worthwhile as well,  and the financial award is an added bonus to help pay for the final semester of my doctoral program," Tisdale said. The award is in the amount of $10,000.
She has served in the nursing profession since graduating from JJC's nursing program in 1993. Tisdale earned a Bachelor of Science in Nursing from the University of St. Francis and a Master of Science with a certificate in nursing education from Regis University. She is currently finishing her Doctorate of Nursing Practice (DNP) at Regis University and will graduate this May. 
Tisdale's DNP project focuses on nursing faculty retention. Research shows that first-time nursing professors lack the necessary skills to implement the best teaching methods or how to effectively manage clinical rotations. She has created an eight-step orientation program that focuses on preparing them for the classroom. Its success is measured by a pre- and post-orientation survey administered to each professor that completes the training. The results aren't finalized just yet, but Tisdale says they will be ready soon.
"I am currently taking a statistics course where I analyze the data to see if the online orientation improved the self-efficacy of the nursing faculty. But I have heard anecdotally that this was a good way to get necessary information to new and existing faculty, so I hope to put this into practice once I complete my degree," she said. 
Tisdale hopes her training program will be implemented for all new nursing faculty members at JJC, where she's taught since 2012. Her nursing classes educate students on how to care for patients with diseases affecting organs like the liver and thyroid. She also teaches about mental health. 
She says her students love to learn the skills of the nursing profession, such as starting an IV or inserting a catheter. 
For Tisdale, she loves to see "The students conquer knowledge and understand concepts."
For more information contact Scott Harvey, communications and media coordinator, at 815-280-2844 or sharvey@jjc.edu.