Joliet Junior College has been awarded a National Science Foundation grant in the amount of $649,901.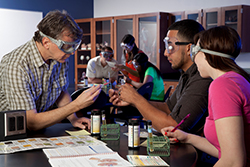 The funding will be used for the "Supporting Science Students through Scholarships, Academic and Social Activities, and Reflective Journaling" project – a program designed to address the increasing need in Illinois and surrounding areas for highly qualified STEM professionals. It will include a structured research study that will be used to determine the impact of course specific tutoring, mentoring, and reflective journaling among students in STEM courses and be led by JJC Professor Andrew Morrison.
"Creating clear pathways to explore STEM-based opportunities for students and developing the right resources to support these activities is paramount to the success of this project," Dr. Judy Mitchell, JJC president, said. "The support from the NSF is crucial to this success and we are appreciative of their investment in JJC."
Congressman Bill Foster, who announced the award this week, said it is critical to invest in expanding opportunities for students to explore STEM subjects.
"For America to remain competitive in a global economy that is increasingly STEM-based, we must continue to invest in expanding opportunities for students to explore STEM subjects in the classroom and the career paths that follow," Congressman Foster said. "Joliet Junior College is laying the foundation for our country to continue its leadership in science and innovation."
The grant award begins in February 2018.
For more information, contact Kelly Rohder at (815) 280-2915 or email krohder@jjc.edu.