For the sixth straight year, Joliet Junior College is participating in The Great Read to promote literacy, reading and community conversation.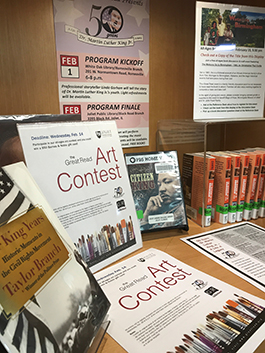 The program, which is open to the public, will serve Plainfield, Joliet, Bolingbrook, Lemont, Crest Hill, Lockport and Romeoville. It runs throughout February.
The theme for the 2018 Great Read is the life and legacy of Dr. Martin Luther King Jr. All activities will be based upon the Civil Rights Movement and honor Dr. King's legacy.
"As Dr. King said, 'Everybody can be great because everybody can serve,'" said Michelle Roubal, JJC librarian and committee member for The Great Read. "In that spirit of service, at each of these programs, there will be the opportunity to give back to our community, in the form of food and clothing donations."
Activities will take place at the Joliet Junior College Library, Fountaindale Public Library, Joliet Public Library, Lemont Public Library, Plainfield Public Library and the White Oak Library District.
Items created at the JJC Library will be donated to local homeless shelters. That includes a no-sew fleece scarf during the Make Two-Give One Fleece Scarf event Wednesday, Feb. 7 from 3 to 9 p.m. Participants will be able to make a scarf to donate and one to keep for themselves. All supplies will be provided and volunteers will be there to provide assistance. Participants are encouraged to bring new or gently used hats, gloves and mittens to be donated to Daybreak Center in Joliet.
The JJC Library will also host the Family Book Discussion, Thursday, Feb. 15 from 5:30 to 7 p.m. Families will discuss the book, "The Watsons Go to Birmingham" by Christopher Paul Curtis. This family-friendly publication follows the Watson family on their trip from Flint, Michigan to Birmingham, Alabama and the historical events that take place. It isn't necessary to have read the book, but it is encouraged. Families will also be making a craft inspired by the book. At this event participants are asked to bring canned goods to be donated to Bags of Hope, Morningstar Mission of Joliet and St. John Food Pantry.
Bags of Hope director, Kim Panozzo, says she's grateful that The Great Read is collecting items for its cause.
"Since we rely strictly on food and monetary donations, food drives are the difference between a few items going home on the weekend to having an abundant bag of food that the kids are excited and thankful to have. It's also a relief for the parents," Panozzo said. "The Great Read Program is sure to help fill those bags. Every can counts!"
Roubal encourages the community to visit JJC and celebrate Dr. King's legacy.
"The Library looks forward to welcoming not only students and staff, but also families and the general public to these community-centered events which encourage reading and sharing."
Both events are free to the public but registration is required. You can sign up at www.jjc.edu/LLC.
For more information contact Scott Harvey, communications and media coordinator, at 815-280-2844 or sharvey@jjc.edu.