The Joliet Junior College Culinary Competition Team has advanced to compete for best in America after its top finish at regionals.
JJC's team earned first place gold among the five participating in the American Culinary Federation's (ACF) Central U.S. Championships March 29-31 in St. Paul, Minnesota. In fact, JJC was the highest scoring team across all four U.S. regions.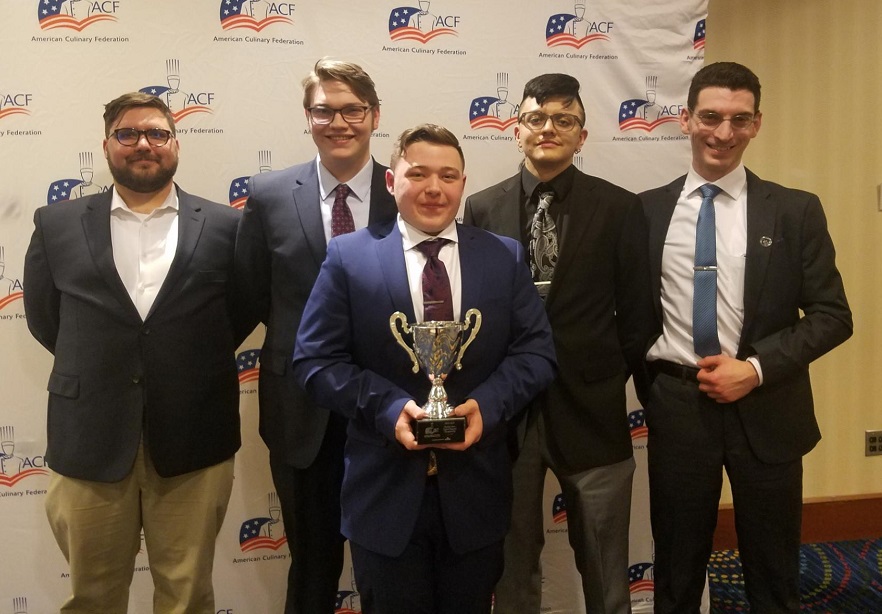 Chef Paul Bringas, culinary associate professor and competition team coach, said his students worked very hard in practice and preparation for this event.
"The hard work will continue over the next several months and in to summer, as we prepare for the national stage in Orlando, Florida August 4-8 at the ACF National Convention," said Bringas.
Liam O'Brien, one of five students on the team, said they've been working toward this goal since the team formed last fall. He said the team spends up to 40 hours a week together honing their skills.
"To see all the time and work pay off felt great. There was also what felt like a weight lifted off our shoulders, but only for a moment before we started talking about nationals," said O'Brien.
JJC will be vying for its third Culinary School Team Championship title. It won in back-to-back years in 2011-2012 and 2013-2014.
"The thing that I think separated JJC from all the other teams is the instructors," O'Brien said. "The Chefs here at JJC's culinary program go above and beyond what is asked of them. They put in extra time to help coach us, the team, as well as other students."
O'Brien added there's a strong comradery among the culinary students, and classmates are considered "kitchen family."
"I really am in awe of this talented group of young people," said Chef Mike McGreal, Culinary Arts Department chair. "The dedication they showed to practicing for these competitions is a foreshadowing to the types of leaders they will become in this industry. We are hopeful that we will be able to add a third national champion banner to the two we already have."
In addition to the best student team, students at the Minnesota regionals competed in other categories, including Student Chef of the Year. JJC's Aleczander Johnson, who was mentored and coached by Chef Tim Bucci, earned a second place silver medal.
For media inquiries, contact Communications and Media Coordinator Scott Harvey at 815-280-2844 or sharvey@jjc.edu.