For the seventh straight year, the Joliet Junior College Library is participating in The Great Read to promote literacy, reading and community conversation.
The program, which is open to the public, will serve Plainfield, Joliet, Bolingbrook, Lemont, Crest Hill, Lockport and Romeoville. It runs throughout February. 
Michelle Roubal, a librarian at JJC, is part of The Great Read's planning committee.
"The Great Read gives JJC the opportunity to reach out to our community and invite readers of all ages to participate in a month-long exciting literacy event," said Roubal.
The theme for the 2019 Great Read is The Wonderful Wizard of Oz: Follow the Yellow Book Road. All activities will center on the classic novel by Frank L. Baum.
Activities will take place at the Joliet Junior College Library, Fountaindale Public Library, Joliet Public Library, Plainfield Public Library and the White Oak Library District. 
JJC's Library will host two events at the college's Main Campus.
"Images and Video and Art, Oh My!" will take place on Thurs., Feb. 7 from 3 to 4 p.m. in the Library. Participants will explore the JJC Library's online resources that focus on visual arts and multimedia. There will be treats and prizes. 
On Feb. 12 from 5:30 to 7 p.m., participants will take "A Trip through the Emerald City MakerLab." This event will allow participants to explore JJC's state-of-the-art 3-D printing lab. Participants will get a chance to win prizes, play games and bring home a souvenir. 
"We are excited to welcome everyone to 'follow the yellow book road' and visit the library to learn more about our rainbow of resources," said Roubal. 
There is also a community wide art contest for all ages. Interested participants must create an original piece of art inspired by "The Wonderful Wizard of Oz." Entries can be any medium, but must meet the size requirement of up to 2 feet in height and width and a 5-pound maximum weight. If participants create a digital presentation, it can be no longer than two and a half minutes. All submissions are due by Feb. 15. 
In addition to the two events at the JJC Main Campus, there will also be activities at each of the participating libraries in the area. More information about the art contest and events at all local libraries can be found on The Great Read's website.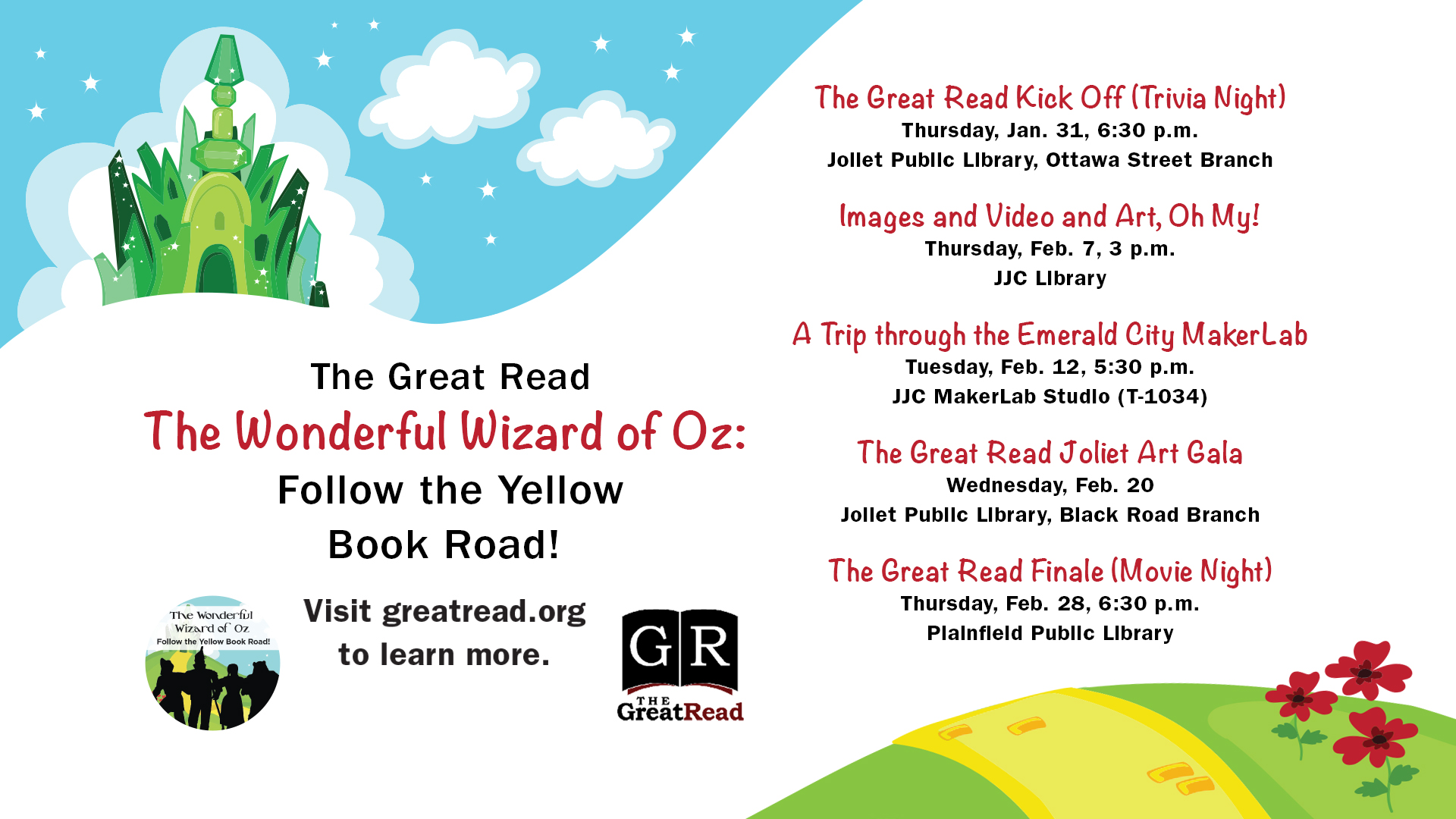 For media inquiries, contact JJC Communications and Media Coordinator Scott Harvey at 815-280-2844 or sharvey@jjc.edu.