JJC Professor Launches Asian Carp Control Project
Joliet Junior College, the United States Geological Survey (USGS) and the Illinois Department of Natural Resources (IL-DNR) have launched a scientific study designed to increase catch rates to aid in efforts to remove Asian carp.
Using a food-based fish attractant created by Dr. Patrick Mills, professor and chairman of JJC's Natural Sciences Department, researchers hope to lure the invasive species into their nets. Dr. Mills' fish attractant was developed from his primary research focus which investigates an amino-acid induced feeding response in fish and other aquatic species.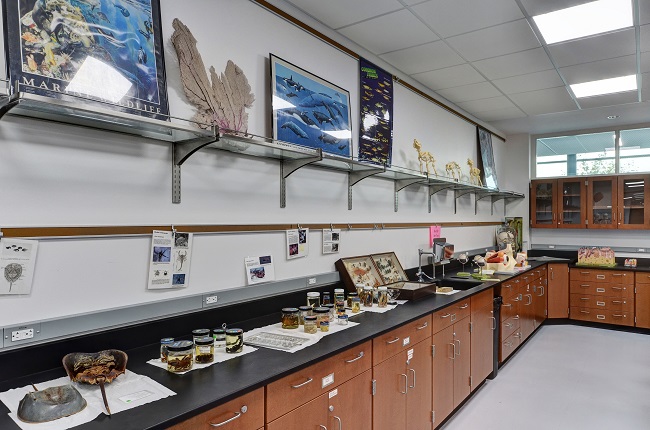 "Asian carp, particularly silver carp, present a serious, immediate, and continuing threat to aquatic ecosystems across and beyond the Midwest," said Mills. "Joliet contains the final geographic obstacle, and represents the tip-of-the-spear, in the fight to prevent the migration of this invasive species from reaching the Great Lakes."
While a variety of methods for removing the species have been investigated, they've yielded only mixed results.
"A review of research data suggests that food-based attractants may provide the most efficient, cost-effective route to the large scale removal of Asian carp, principally from rivers, via the use of easily implemented commercial hoop netting methods" said Mills.
Mills has been working with Robin Calfee, a research biologist with the USGS, for the past several months as part of an agreement to jointly develop Asian carp attractants. This is the first such agreement by the USGS-Columbia Environmental Research Center with a public community college. Mills is also working with JJC's Computer Information Office Systems and Technical Departments on the issue.
On May 18, Mills, JJC students and other faculty, along with representatives from the USGS and the Illinois Department of Natural Resources, will meet at Starved Rock State Park to oversee the scientific fish attractant study, which began on May 8 and will run for roughly 30-days.
Mills hopes that successful completion of the project will lead to a formal cooperative agreement between JJC and the USGS in order to help fund students to do the research.  Such an agreement would be appropriate with Great Lakes Restoration Initiative and IL-DNR support.
"Such an agreement would form an essential component of our proposed aquaculture program, and be of significant value and interest to JJC students in technical, agriculture, horticulture, and natural science departments," added Mills.
More media inquiries, contact Communications and Media Coordinator Scott Harvey, at 815-280-2844 or sharvey@jjc.edu.