The Joliet Junior College (JJC) Police Department is pleased to announce the recent graduation of Patrol Sergeant Thomas Glisson from the School of Police Staff & Command (SPSC). Sergeant Glisson successfully completed the program as a member of SPSC Class #537, held in Plainfield, Illinois, from Jan. 3 to May 5, 2023. SPSC is an academically rigorous, full-time, 10-week management program for public safety professionals.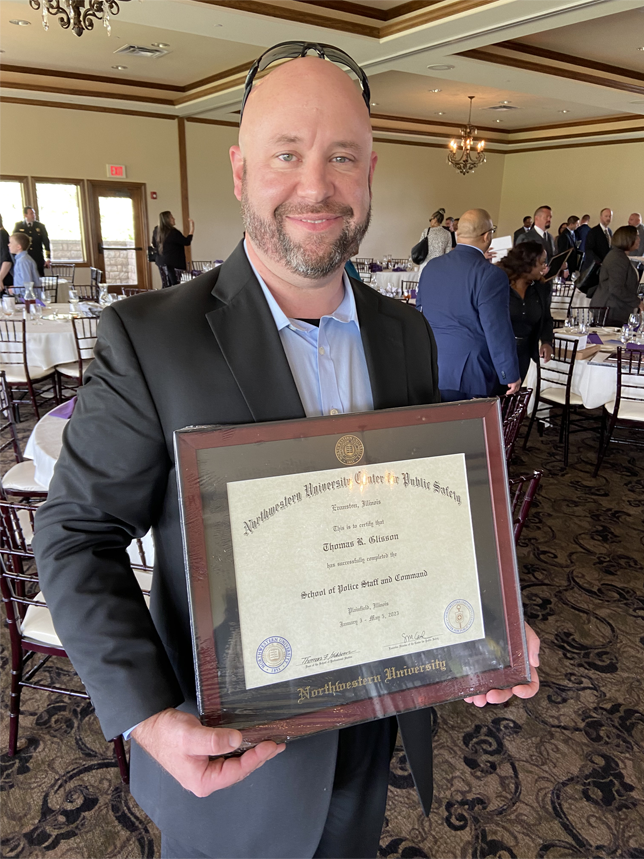 "This program is very sought after to take your leadership abilities to a higher level," Sergeant Glisson said. "I wanted to improve myself and my department at the same time, and this was one of the best options out there." 
Since 1983, when its first class commenced, approximately 21,000 law enforcement leaders have graduated from the internationally recognized School of Police Staff & Command program. SPSC provides upper-level college instruction in a total of 27 core blocks of instruction plus elective blocks. The major topics of study include leadership and management, human resources, employee relations, contemporary policing, organizational behavior, planning and policy development, budgeting and resource allocation and media relations. 
"Technology and best practices are constantly changing in law enforcement," said JJC Police Chief Brandon Campbell. "Keeping up with the newest training prevents us from being stagnant. Attending a course in any discipline will typically have entirely new curriculum by the time an officer needs to recertify in that discipline. Leadership training is no different." 
Each student is academically challenged through written examinations, projects, presentations and quizzes, in addition to a staff study research paper, which are all required parts of the curriculum. Upon successful completion, students may be awarded a total of 6 units of undergraduate credit from Northwestern University in Evanston, Illinois. 
The JJC Police Department anticipates a variety of benefits from Patrol Sergeant Glisson's participation in this program. Many of the program's graduates go on to achieve a variety of leadership positions within their respective agencies. 
"Helping our police department and JJC take our services to the next level is our shared vision and goal," said Sergeant Glisson, who oversees JJC's Police and Community Engagement Team along with the afternoon shift. "This class enhances our team's ability to take us to that next level of police service for our college community." 
For media inquiries, please contact Media and Communications Manager, Katherine Smith, at katherine.smith@jjc.edu or 815-280-2844. 
LEARN MORE ABOUT JJC POLICE