Joliet Junior College and Catholic Charities Diocese of Joliet Head Start program have partnered to offer childcare services on campus starting this fall. 
Under a three-year lease agreement approved by the JJC Board of Trustees at its June meeting, Catholic Charities will operate the college's Early Childhood Center at Main Campus. It includes two classrooms, office space, a small kitchen prep area, the outdoor playground, restrooms, and storage. Since 2019, Catholic Charities has leased some of that space, which is utilized by JJC students studying child development. Under the expanded agreement, students will continue to conduct observation hours at the ECC for their lab requirements.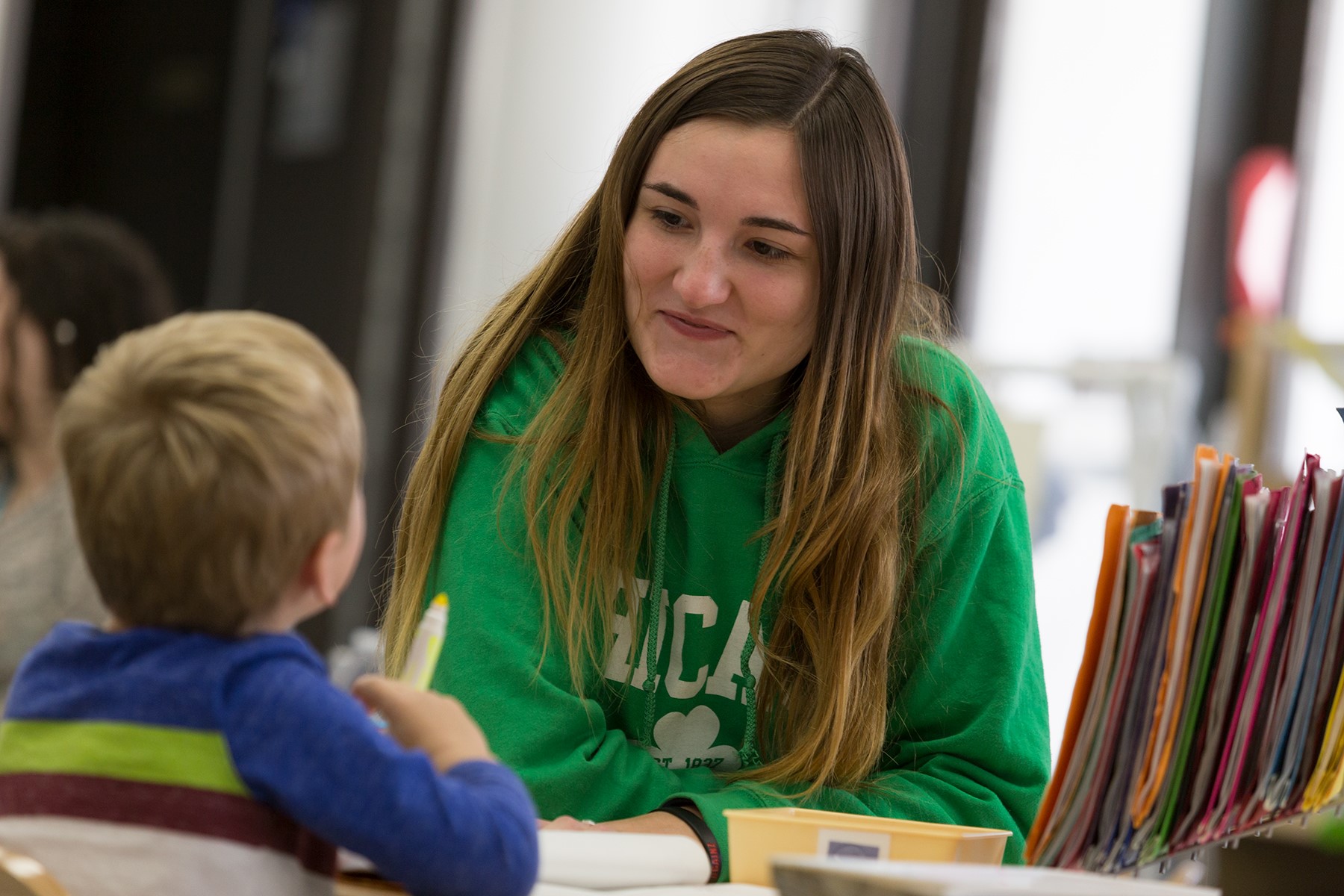 Catholic Charities provides an early learning program that promotes school readiness for income eligible children by enhancing their cognitive, social, and emotional development.
"This partnership offers broad value to our students, employees, and offsets expenses in support of JJC's commitment to fiscal responsibility," said Cecil Lucy, vice president for finance and administrative services. "In the near future, this new agreement will also allow the college to expand the age of children served to infants and toddlers. Under our former childcare licensure, we could only enroll children from 30 months to six years."
Childcare services will begin this fall, with hours of operation Monday through Friday from 6:45 am to 5:30 pm. Information on start dates and guidance for parents can be found on the childcare services website. 
"Catholic Charities is pleased to be expanding its Head Start program at JCC," said Kathleen Langdon, interim executive director of development and communications. "This partnership will enhance both JJC students and the families participating in the Catholic Charities Head Start program. We can't wait!" 
The college is in year three of a four-year federally-funded CCAMPIS (Child Care Access Means Parents in School) grant. It provides the college nearly $90,000 each year to support the participation of low-income parents in postsecondary education through the provision of campus-based child care services. Funds are used to support the needs of primarily low-income students enrolled in Illinois higher education institutions. 
JJC student-parents who meet the eligibility requirements for both Catholic Charities Head Start and CCAMPIS could receive financial support for child care. If they do not meet Head Start's eligibility requirements, JJC will work with student-parents to find them a different agency to meet their childcare needs. For assistance, contact CCAMPIS Recruitment and Parent Support Specialist Amy Martin at amartin@jjc.edu.
For information about enrolling preschoolers and to receive future information on enrolling infants and toddlers, call 815-724-1148 for English and 815-724-1149 for Spanish. A pre-application form can also be completed online. 
About Catholic Charities
Catholic Charities, Diocese of Joliet is a faith-based organization that provides service to people in need and calls others of good will to do the same. The Agency offers Early Childhood Services in Will County, which includes the Head Start program. Other Will County services include homeless prevention, emergency services, counseling, Daybreak Center homeless shelter, alternative housing programs, and services for veterans. To learn more about Catholic Charities, visit catholiccharitiesjoliet.org.
About JJC
Located in the south Chicago suburbs, Joliet Junior College is the nation's first public community college, with six campuses and education centers that serve approximately 27,000 students annually. JJC's nine academic pathways offer customized, affordable certificate and associate degree options for immediate career placement, as well as seamless transfer capabilities through its partners across Illinois and throughout the U.S. JJC students also benefit from a collective $13 million in state and federal grants, and scholarship assistance in excess of $750,000 each year. Learn more about JJC at www.jjc.edu.
For media inquiries, contact Communications and Media Coordinator Scott Harvey at sharvey@jjc.edu.