JJC nursing students Abubakare Olaseni Arowolo and Don Florante have earned the program's 2020 Citizenship Award.
Nursing faculty select two students each year for the award, which is given to those that demonstrate outstanding qualities in the categories of attitude, academics, character, community service, and school spirit.
Born in the West African city of Lagos, Nigeria, Arowolo relocated to the United States five years ago with, as he described, "dreams of economic and spiritual success." Arowolo said enrolling in JJC's Nursing program was one of the best decisions he could have made, calling it the total education package.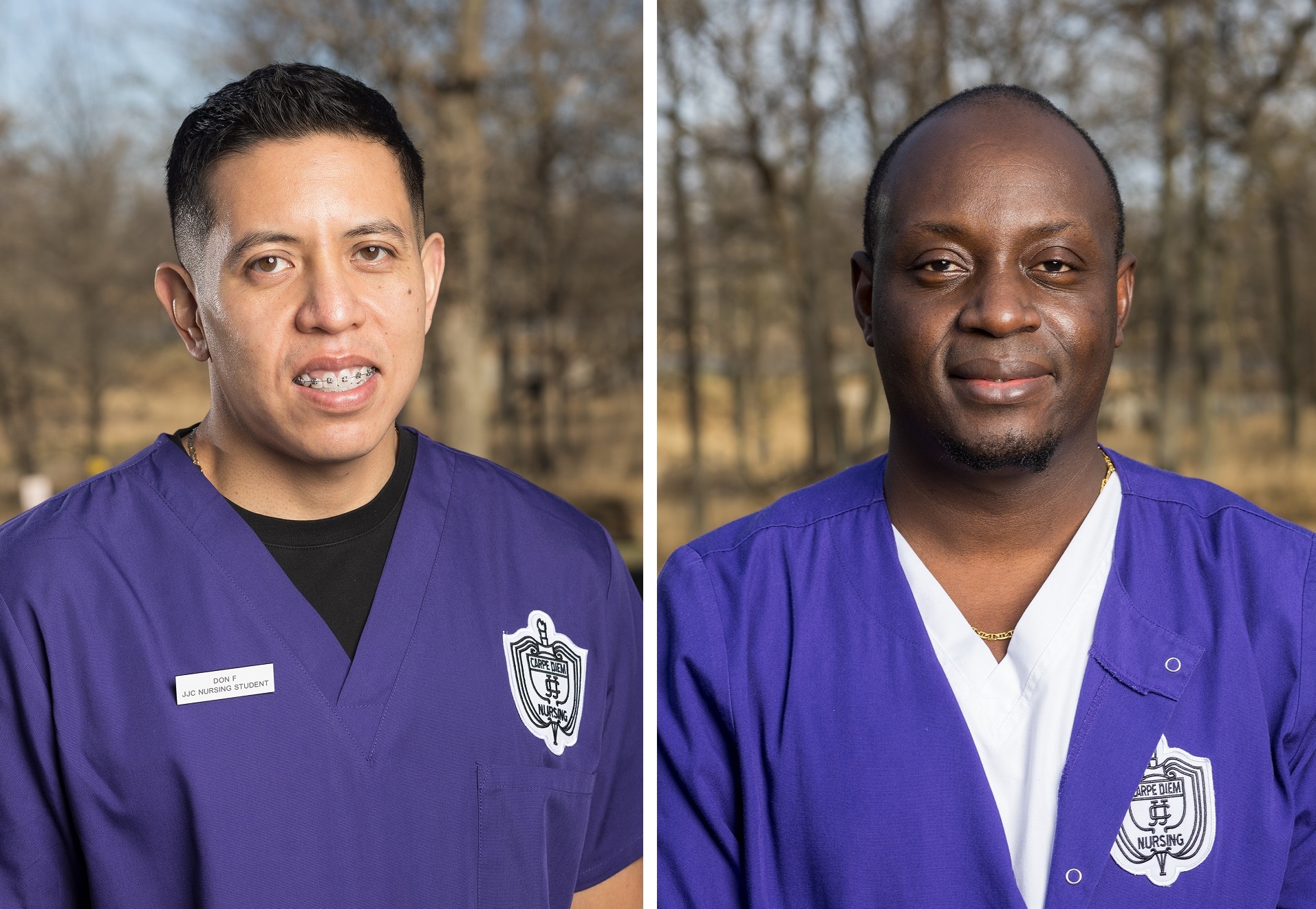 "There's just something special about this faculty, the tutoring provided here at JJC is second to none," said Arowolo.
For Florante, who grew up on Chicago's South Side, word of mouth played a big role in his decision to attend JJC. That includes his wife, who is a graduate of the program.
"While they are educating you here at JJC they are also setting you up and preparing you to further your education after JJC," said Florante. "The alumni from JJC is also a great resource that is not talked about enough I feel. They are in constant communication with current students and serve as yet another resource."
He served in the JJC Nursing Student Association and off campus he and his family are involved in various charitable work across Joliet. He also donates time to online coaching for various healthcare workers and first responders.
Florante, a returning adult student, added the dedication nursing faculty showed and confidence they instilled in him were instrumental to his success.
"Faculty believes in you and make your success their own in a way," said Florante.
Arowolo also commended nursing faculty for their assistance, and the great opportunities students have to succeed.
"One could walk into any of the faculty member offices if you need advice," said Arowolo.
Both students are humbled to receive the Nursing Citizenship Award, and said it further motivates their career pursuits. Arowolo and Florante will also prepare to join an industry that has been greatly impacted by the COVID-19 pandemic. 
"Covid, while this is a horrible thing, has shown me a lot more opportunities to be there for one another," said Florante. "It has shaped my outlook for nursing in a positive way. I can't wait to get out there and be a part of the profession."
Florante's immediate goal is to earn his Bachelor of Science in nursing while working in oncology or an emergency room setting. Long-term, he wants to receive a masters and become a teacher, possibly at JJC.
For Arowolo, he hopes to "keep the JJC torch aloft, as I continue on my career path to get better with patient care and advocacy."
For more information on JJC's nursing program, visit www.jjc.edu/nursing.
For media inquiries, contact Communications and Media Coordinator Scott Harvey at sharvey@jjc.edu.