Joliet Junior College has been named a top employer for 2021 by DiversityJobs, an online job board dedicated to diversity and inclusion in the workplace. 
JJC is among a select number of Illinois colleges and universities to make the list, and one of just 57 education employers across the nation. DiversityJobs credits those selected with showing consistent outreach and dedication to recruiting and hiring from all diversity groups in order to identify the most qualified candidate. Such efforts are integral to the success of JJC's Diversity, Equity and Inclusion (DEI) Plan, as JJC President Dr. Judy Mitchell noted during her State of the College address last fall.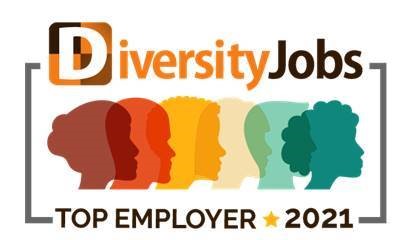 "We have significantly increased the number of minority applications for both faculty and staff from FY17 to FY20," said Mitchell. "For staff, we increased this application pool by 6%, and for faculty we increased this application pool by 8%. This is a start, but we know our efforts need to continue to make a lasting impact."
The total amount of jobs published over that three-year period exceeded 1,460. Job seekers viewed those positions over 40,000 times, with more than 7,000 completing an application. 
Through its seven Core Values, JJC fosters a caring and friendly environment that embraces diversity and sustainability and encourages personal growth. The college's 2020-2023 DEI Plan formalizes efforts to foster such practices across the institution, while building on years of diversity initiatives. In 2020, JJC hired an executive director of diversity, equity, inclusion and compliance to implement the DEI plan.  
 
Through DiversityJobs, openings at JJC are submitted to other websites supporting diverse workplaces, including blackcareers.org, allhispanicjobs.com, and wehirewomen.com. In addition to sharing openings with DiversityJobs, JJC also posts on its own website, Chronicle, Higheredjobs, Insidehighered, and Indeed. 
View the full list of DiversityJobs' Top Diversity Employers 2021.