Approximately 120 students from eight high schools will participate in this year's Regional CAD/Drafting Competition at Joliet Junior College.
The event takes place on Friday, March 1, from 7:30 a.m. to 2 p.m. in the T-Building at Main Campus, 1215 Houbolt Road.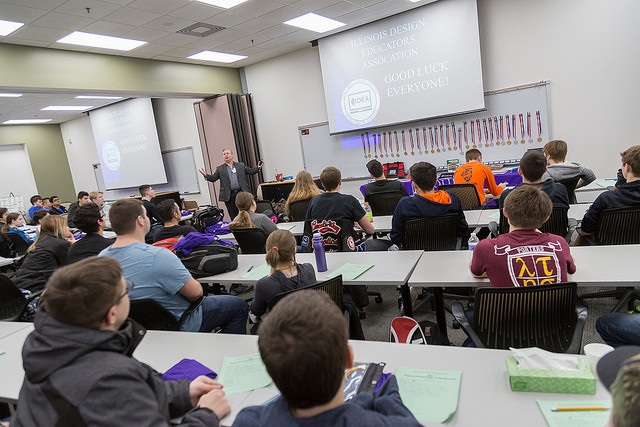 This event is hosted by the Technical Department, and conducted by the Illinois Drafting Educators' Association (IDEA). The challenging and competitive design experience tests students' skills and prepares them for the state competition. It's also a great opportunity for high school students considering studying CAD at the college level.
"It's a fun way for them to be challenged and get creative," said Scott Boudreau, JJC CAD professor and IDEA regional director. "Plus, it's a stepping stone to the state competition."
View photos from the 2018 CAD/Drafting Competition.
This year's competing high schools include Lincoln-Way East, Lockport Township, Lockport East, Lemont, Ottawa, Joliet West and Joliet Central, and Senaca.
Students will be tasked with different designs such as mechanical machine parts and architectural floor plans, categories chosen by their high school teachers. After the submissions are judged by industry professionals, prizes are awarded for each category. The first and second place winners are eligible to proceed to the state competition.
The state competition, which will include high school teams from all across the state, will be held at Illinois State University in Normal, Illinois on April 27. The top prize in that competition is a $5,000 scholarship.
More information about the competition is available by contacting Scott Boudreau at 815-280-2410 or sboudrea@jjc.edu. 
For media inquiries, contact Communications and Media Coordinator Scott Harvey at 815-280-2844 or sharvey@jjc.edu.