JJC Earns National Award for Advancing Diversity
Joliet Junior College is the national winner of the Award for Excellence in Advancing Diversity by the American Association of Community Colleges (AACC). Recipients were announced during the AACC's virtual ceremony on May 27. 
JJC was a national finalist in two award categories. It placed ahead of two other colleges for the diversity honor. Dr. Andrew Morrison, natural sciences professor, was also a finalist for the Faculty Innovation Award for his use of lightboard technology. 
JJC President Dr. Judy Mitchell said the top finish in the diversity category signifies the college's contributions within its leadership, the community, and higher education.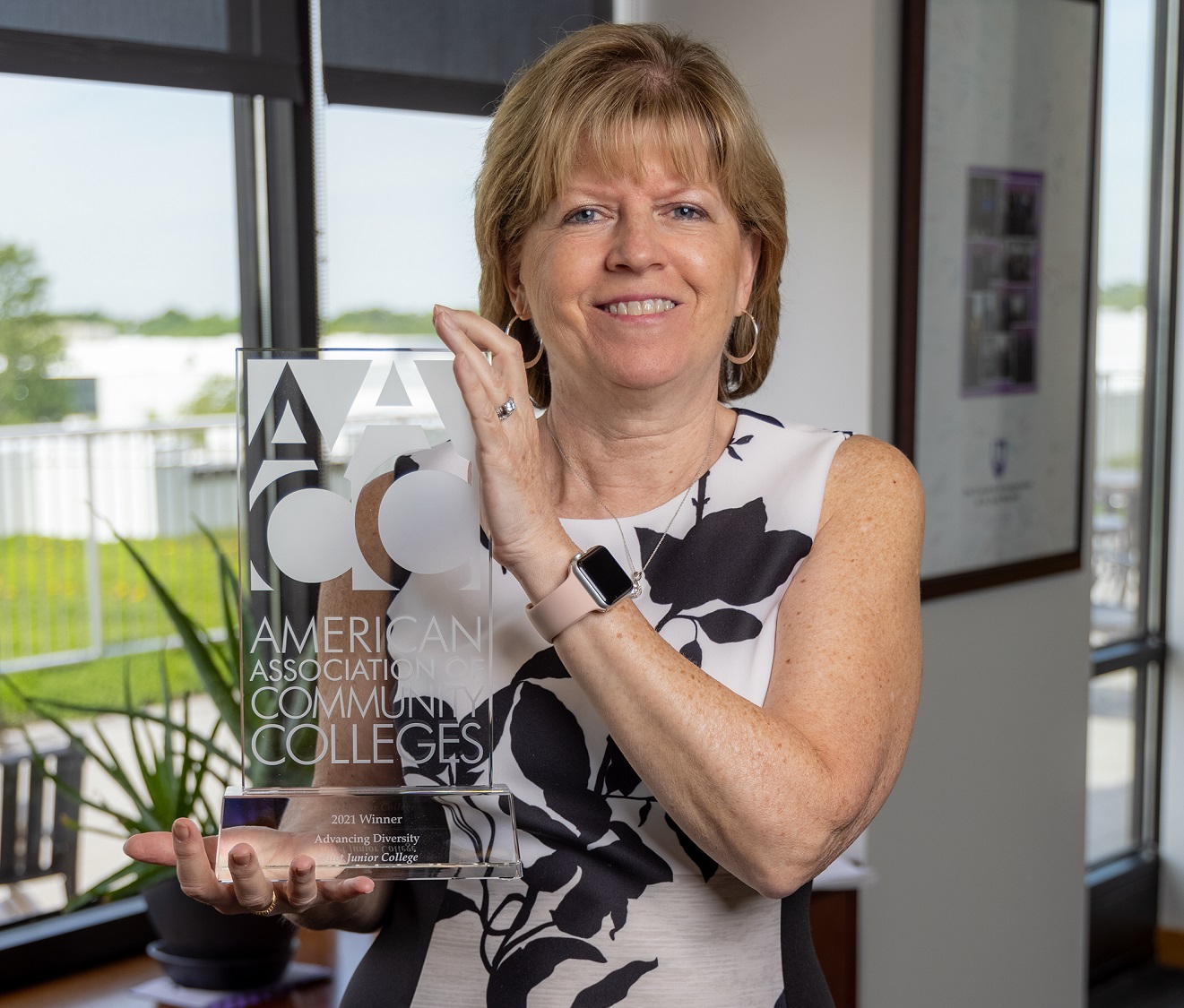 "We are building a network of diversity, equity and inclusion (DEI) champions," she said. "Our work is an intersection of so many areas: recruiting, hiring, and retention; business and procurement; marketing; student and employee programming and support; advocacy in the community."
Mitchell noted the increased number of minority faculty and staff applications, which for two straight years has earned JJC the Top Employer for Diversity Jobs distinction by DiversityJobs.com. There's also been a bump in student retention rates geared toward greater ADA accessibility and Spanish language opportunities.
Mitchell acknowledged increased challenges to these goals in 2020, with the weight of a pandemic and pain of racial injustice across the nation, that opened up more listening opportunities with employees and students. 
"I can tell you now that what was missing in those moments was a shared vulnerability. We needed to create spaces for our employees and students to be vulnerable and have meaningful exchanges. To be meaningful, they needed to be real. We needed to understand the lived experiences of those around us, and to be able to tell our own stories of unconscious bias, racism, and inequity."
This led to the creation of small groups for employees to talk, including facilitated conversations and a DEI Book Club. A large population of JJC employees have also completed cultural competency trainings. 
"I am so thankful for every single person on our campus—every person has contributed to this journey, and shaped who we are today," said Mitchell. "Thank you to the American Association of Community Colleges for recognizing our work. We are meeting our DEI goals, and in the process, have found new ways to acknowledge and appreciate one another."
View national finalists for the AACC's 2021 Awards for Excellence.
For media inquiries, contact Communications and Media Coordinator Scott Harvey at sharvey@jjc.edu.