Ashley Johnson, a lab assistant and graduate of Joliet Junior College's culinary arts program, will attempt to expand her start-up through Yorktown Center's Taste for the Space competition on June 16.
Johnson's business, Pain de Chicago, will compete with 12 other local food trucks, chefs and restaurants for a chance to win a dining space at Yorktown Center.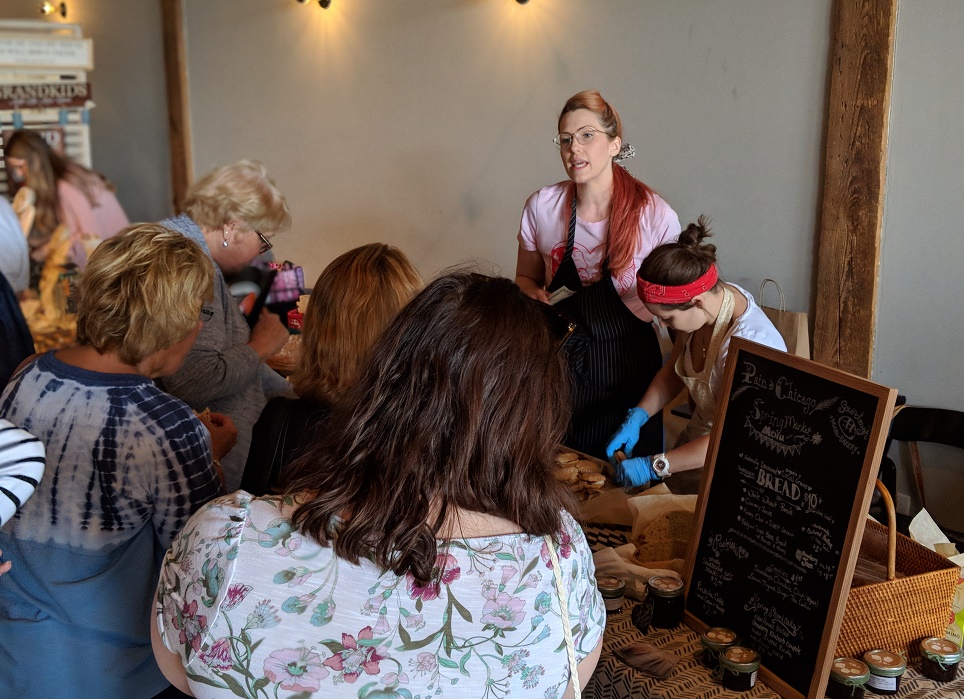 "It is a chance for me to introduce my concept to a lot of people at one time. Come see what I can do!" said Johnson. "I don't have a food truck or my own commercial kitchen space - yet. I will someday, though! Also, there are so many great competitors participating - it is going to be delicious!"
Johnson produces small batches of sourdough breads and seasonal pastries and preserves using locally-grown artisan grains and ingredients. They're currently sold at pop-ups, specialty markets, or collaborative events with other local businesses in the western suburbs.
The name Pain de Chicago is inspired by her home and pain de campagne, or French sourdough bread.
"I make bread using artisan grains and ingredients grown locally, so to me Pain de Chicago is 'bread of Chicago,'" Johnson said.
Her business is modeled as a hyper-seasonal, plant-centric, brunch bistro and bakery. She wants it to be a place where you can pick up fresh baked breads, and enjoy lunch and a craft beverage in a peaceful setting. Johnson also wants to use the space to host exclusive tasting dinners and community learning events, when guests can experience special collaborative menus with other local makers, producers, growers, and chefs in a more fine-dining atmosphere. 
"I strive to connect with food at all levels, and believe that connection will encourage sustainability and a positive future," Johnson said. "I believe locally-grown food tastes better and it also supports our community and earth."
Tickets for the event are $7 and free to those 10 and under. Guests can sample food, refreshments, and more as they taste their way through the competition. A panel of judges will determine the winner, but guests can vote for their favorite for the judges' consideration.
"I feel honored to be competing with so many other talented cooks and restaurateurs. I'm thankful that I have this opportunity to participate. I'm really looking at this as a fun afternoon of sharing delicious food with my future customers, along with my peers of independent food business entrepreneurs," she said.  
Johnson credits her family for their support during this process, who she says are her biggest motivation. She also thanked JJC Culinary Department Chair Chef Mike McGreal for encouraging her to enter the competition. 
"I am very inspired by what I learned from my instructors at JJC; Chef Chelbana, Chef Bucci, and Eric Bell. I was a very focused and determined student, and I think that's a big reason why Chef McGreal advised me to enter this contest."
Taste for the Space is Saturday, June 16 from 12 to 3 p.m. To learn more or purchase tickets, visit the Yorktown Center website. Learn more about Pain de Chicago on Facebook, Twitter, and Instagram.
For media inquiries, contact JJC Communications and Media Coordinator Scott Harvey at 815-280-2844 or sharvey@jjc.edu.