Hundreds from the Joliet Junior College family and community gathered Thursday to celebrate the life of longtime JJC faculty member William (Bill) B. Johnson.
The event at Weitendorf Agricultural Education Center included a dinner and dedication of the William B. Johnson Arena. The venue was decorated with photos and memorabilia signifying Johnson's greatest passions; JJC, agriculture, and hunting, among others. 
View photos from the memorial. 
Johnson played a major role in securing funds for the Weitendorf center, which opened in 2007.
"He was, and will continue to be, such an important part of this place," said Mary Cwikla, coordinator of the Weitendorf Agricultural Center. "It was very near and dear to his heart, and so it was a pleasure to work with someone so invested in the work done here."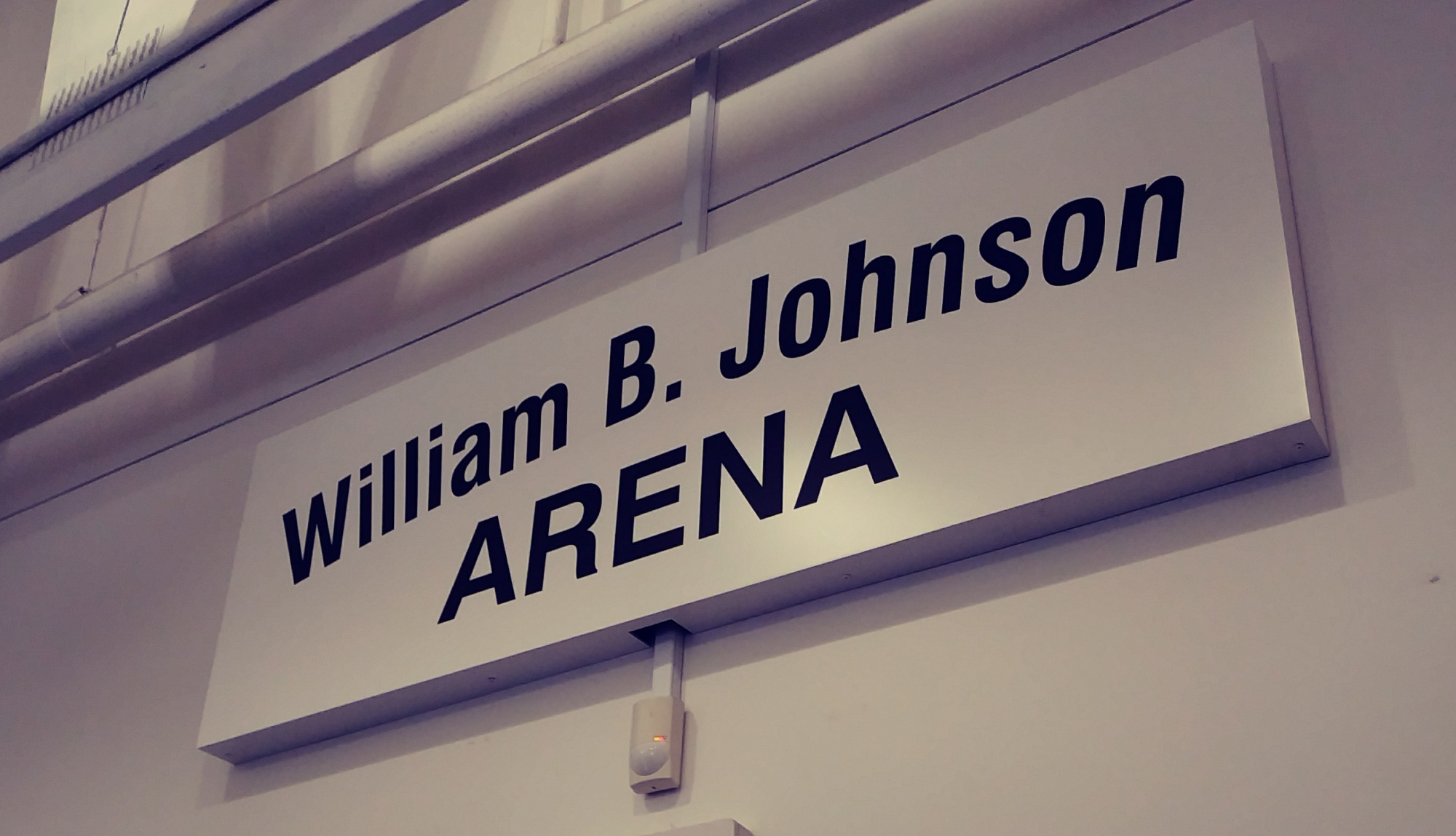 Johnson passed away on May 1 as he was completing his 50th year teaching at JJC. He was 73. His career at the college began on Sept. 1, 1968. He was hired by Elmer Rowley, JJC's first president.
Johnson was instrumental in developing the college's agriculture production curriculum. He served as coordinator of the agriculture production management and swine management programs, and oversaw the internship program for students in those concentrations. Johnson also served on the JJC Foundation Board since 2010.
Those that knew Johnson cited his dedication to the college and its students throughout his career.
"Thousands of students owe a debt of gratitude to Bill Johnson for holding them to a standard and making them believe they could achieve goals and be successful in life," said Donna Theimer, retired JJC horticulture professor. "He wasn't an easy teacher.  Bill held everyone to the same standard he lived by every single day." 
"If you gave him a student's name, or one of their family member's names, he could tell you where they were from and what their academic interests were or where they were working now," said Cwikla. "This was not just for current students, it was from years and years ago.  His mind was a database for student recruitment and retention."
Agriculture professor Tammy Miller was a student of Johnson's and his colleague for the past 18 years.
"He leaves a legacy that will never be duplicated. But yet he's laid a strong foundation for us and I'm confident that we will continue the JJC ag programs in his honor," she said. 
JJC President Emeritus J.D. Ross, who first met Johnson in 1974 while directing the college's Inmate Training Program, said his office was initially located near the Agriculture Department.
"Bill was one of the first people I met. He had a keen sense of humor, loved to tell jokes and stories but was so serious and passionate when talking about his students, the agriculture programs and especially about new technologies in agriculture or agriculture education," said Ross.
In 2017, Ross presented Johnson with the college's Susan H. Wood Hall of Fame Award, signifying his exceptional service to the college. Johnson's longtime colleague and fellow Foundation Board member, retired English professor Natalie Miller, nominated him for the award.
"I'm so happy that he got it," she said.
Johnson was also the recipient of, among other honors, the Excellence in Animal Agriculture Award in 2013 from the Illinois Soybean Association, and the Distinguished Service Agriculture Award in 2014 from the Chicago Farmers. 
Johnson's reputation extended beyond JJC to throughout the state as an ambassador for the agriculture industry.  
"No matter where you go or who you see somebody remembered Bill because he influenced thousands of students. Highly respected, great advocate for the college. Very generous with his resources. Definitely will be missed," said Natalie Miller.
"What I appreciated about Bill was his passion for making a positive impact for agriculture," said Mark Schneidewind, manager of the Will County Farm Bureau who met Johnson 26 years ago. "He very seldom told me 'no this could not be done.' We had a few setbacks working on AG education in the state of Illinois budget but refocused the effort and was successful on our next attempt. A true professional."
"As I traveled the state during my tenure as president of the college, I was frequently approached by people who knew Bill," said J.D. Ross. "He was respected by high school teachers, his community college peers and professors at the state universities." 
"Bill was my friend and someone I truly admired for his selfless dedication to agricultural education.  There will never be another person so passionate about agriculture or so selfless with his time and personal funds.  He made certain every agricultural student who needed financial assistance, had the money to attend JJC," said Donna Theimer.
Kristin Mulvey, executive director of Institutional Advancement and the JJC Foundation, knew Johnson since starting at the college 17 years ago.
"His energies were always directed at recruiting new students and visiting the student interns out in the field no matter where their internship was located.  Most summers he spent flying all over to visit the farms where the students were assigned."
According to Mulvey, over Johnson's lifetime he personally gave $424,000 to JJC.
The JJC Foundation has established the William B. Johnson Memorial Agriculture Scholarship. Donations toward the scholarship will be accepted at the memorial event, online at www.jjc.edu/givetojjc or by check made payable to: JJC Foundation, 1215 Houbolt Road, Joliet, IL 60431.
For media inquiries, contact Communications and Media Coordinator Scott Harvey at 815-280-2844 or sharvey@jjc.edu.