Chef Mike McGreal, chair of the Joliet Junior College Culinary Arts Department, will serve as an advisory board member for the newly established Culinary Training and Education Initiative.
The program is a collaboration between the U.S. Department of Agriculture (USDA) and Institute of Child Nutrition (ICN).  It aims to develop and disseminate culinary trainings and resources to support school nutrition directors, managers/supervisors, cooks, and chefs, which will promote culinary-inspired school meals from scratch while elevating the cafeteria atmosphere.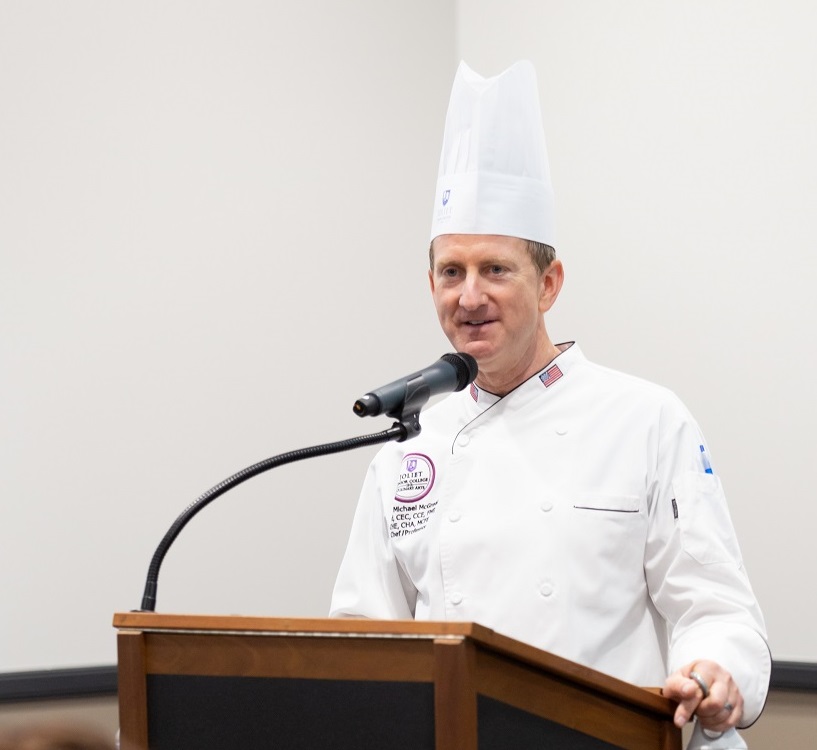 "I am excited to have been asked to be a part of this new and necessary initiative," said McGreal, who is one of 20 board members from the child nutrition and culinary fields.
McGreal previously served on former First Lady Michelle Obama's Chefs Move to Schools initiative. Through the advisory board, he'll meet with members annually for a two-day session to provide guidance on the initiative's activities, training curriculum, and resource development.
"We are excited and honored to have Chef Mike McGreal serve on the advisory board for the training and education initiative," said Patrick Garmong, associate director for culinary education and training at the Institute of Child Nutrition. "ICN has the ability and resources to develop a comprehensive culinary training program that addresses the competencies, knowledge, and skills necessary for school nutrition professionals and school chefs to produce quality and nutritious school meals that appeal to students."
The advisory board's first meeting is March 5-6 at the ICN headquarters, located on the University of Mississippi campus in Oxford. ICN is a program of the UM's Applied Research Division.
For media inquiries, contact JJC Communications and Media Coordinator Scott Harvey at 815-280-2844 or sharvey@jjc.edu.