Joliet Junior College freshman culinary arts student, Elliott Moore, was one of three recipients in the Chicagoland area to receive the US Foods Scholars scholarship through the Careers through Culinary Arts Program (C-CAP).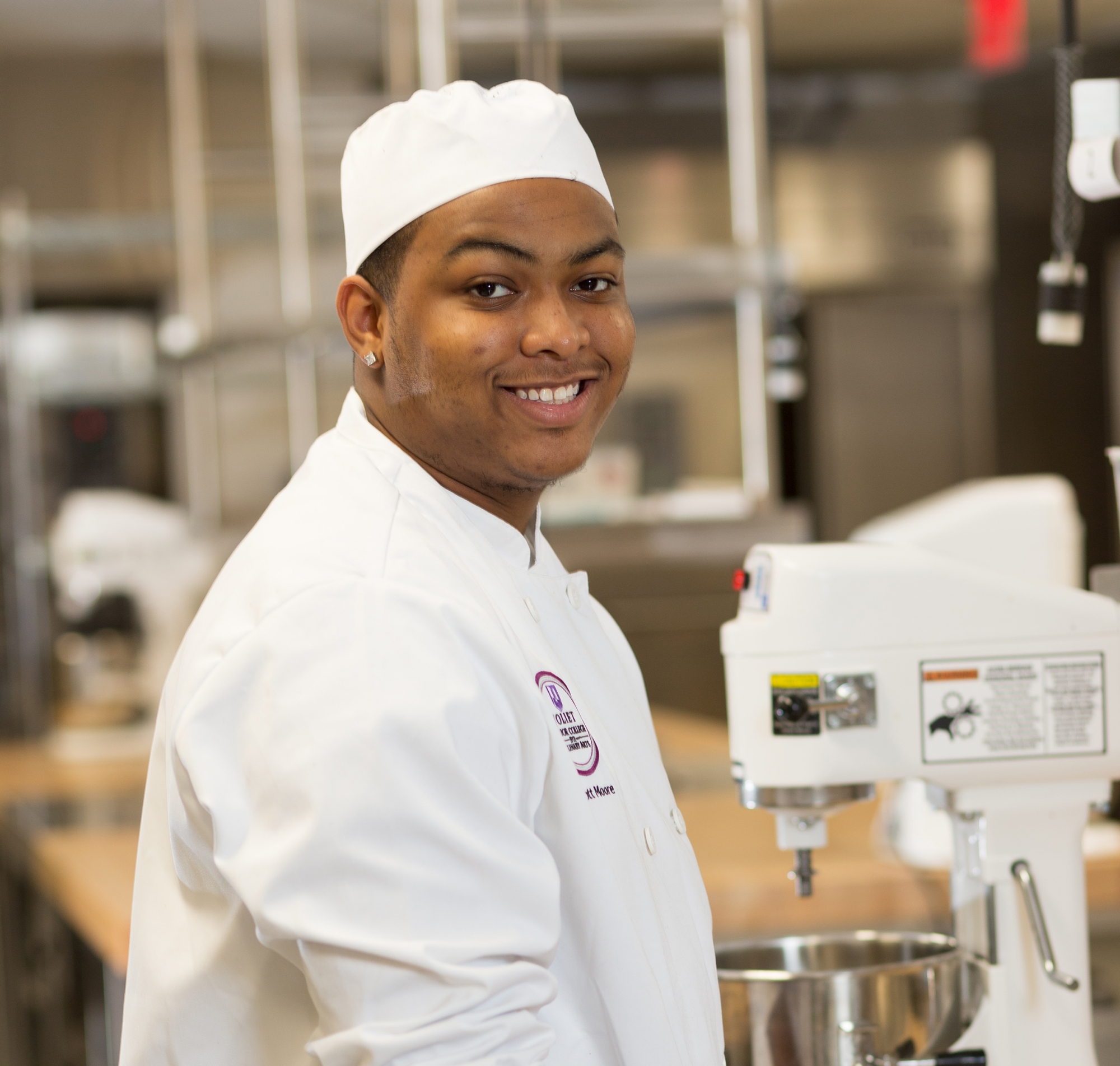 Launched in August 2017, the program aims to reduce the shortage of food service professionals, and supports students that have demonstrated excellence and achievement in the field. Each recipient will receive $20,000 towards their culinary education and the opportunity to train with US Foods professionals. 
Moore, a Lansing, Illinois native, chose to attend JJC because of the Culinary Arts program. He took culinary classes in high school and his teachers pushed him to pursue a career in the industry. 
"While I was in high school, many teachers referred me to JJC, and after doing research, I knew that this would be the perfect opportunity for me," said Moore.   
He said his first semester at JJC has taught him how to adjust to the college life. Moore enjoys using the kitchens at the City Center Campus to practice his favorite dishes. Though he doesn't have a favorite dish in particular to make, he loves to barbecue. 
Moore's instructors say that he has a bright future ahead of him.
"It's great to see a young student who is so excited and focused on his career goals," said JJC instructor Chef Mike McGreal. "Elliot not only demonstrates the drive and determination to succeed as a future chef, but he also has the great personality and friendly demeanor required of a hospitality and culinary leader." 
Moore became interested in culinary arts at a young age when he would observe his family cooking for holidays. 
"I admired their consistent efforts to satisfy our family. Once I began to be more involved in the kitchen with various family members, I knew immediately that this would be a passion that I would continue to pursue."
He said that he would love to become a chef on a cruise ship and eventually open his own restaurant. Moore's favorite thing about the culinary arts field is being able to change a person's mood through a dish that he creates.
"A good dish is bound to make a customer happy."
For media inquiries, contact Communications and Media Coordinator Scott Harvey at 815-280-2844 or sharvey@jjc.edu.