Joliet Junior College Culinary Arts Professor Tim Bucci is officially a Certified Master Chef (CMC), the highest honor given by The American Culinary Federation (ACF). Bucci was the only one of four competitors to earn the CMC title in 2019 and joins just 66 other chefs around the world to hold this designation.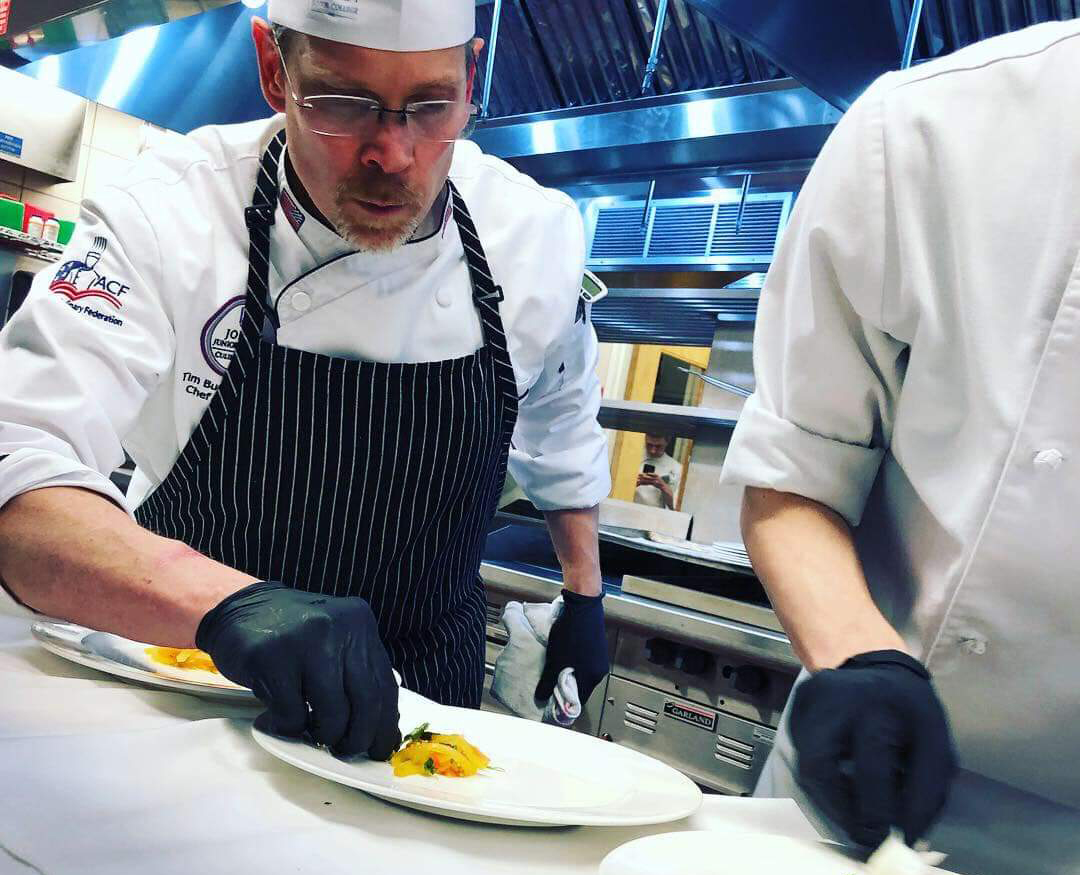 There are just four chefs in Illinois to have this title and JJC now boasts the only CMC faculty member in the state.
"I am humbled and honored to be named the 67th Master Chef of the American Culinary Federation. I will represent the letters, CMC, to my fullest ability," said Bucci.
The exam, normally eight days, tested Bucci on everything from baking and pastries to buffet catering and dishes from around the world. It took Bucci nine days to finish, as he had to retake the first classical cuisine segment.
Participants are at the testing site for 17 to 18 hours a day, cooking, setting up equipment, and planning menus. Bucci was only able to get about four hours of sleep each night.
"You need to take the comments and critiques from the evaluators to heart and incorporate them into your next day cooking. If you don't mentally you will not pass the test," advised Bucci.
Bucci is a JJC Culinary Arts graduate and has a bachelor's degree from Purdue University Northwest. He has been teaching at JJC for 13 years.
Bucci said this was a goal he's had since the mid-1990s. To prepare for the CMC test, he participated in over 60 culinary competitions between 2000 and 2008 and competed with the ACF Culinary National Olympic team between 2010 and 2012.
Bucci was set to take the CMC test in 2014, but a kitchen accident resulting in stitches pulled him out of the competition. He was finally ready to give the test another shot in 2018. He enlisted some help preparing from his lab assistants.
"Being able to work with my lab assistants Emma Prucha, and for a short while Chris Schwellenbach, over the past year and half was invaluable time and practice for the test," said Bucci.
"This is such an incredible accomplishment and honor. I am so proud of Tim!" said Chef Mike McGreal, JJC Culinary Arts Department chair.
Bucci said that he's excited to bring some of the knowledge he's gained into his classes.
"The final outcome of passing the test is surreal. A dream come true for me. Thank you to Chef McGreal for his continued support, as well as the support of the college," said Bucci.
You can watch and read more about Bucci's experience on the ACF's website.
For media inquiries contact Communications and Media Coordinator Scott Harvey at 815-280-2844 or sharvey@jjc.edu.