---
Becoming a business owner is exciting but it can also be overwhelming. If you have questions about starting your new business or would like advice on how to make your current business more successful, the Illinois Small Business Development Center (SBDC) at JJC is here to help.
About the SBDC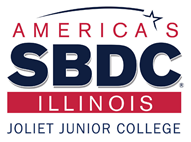 Our professional team of business advisors can provide you with the best advice - whether you have questions about how to create a business plan, how to secure financing or anything in-between.
The Illinois SBDC offers:
Reasonable accommodations for persons with disabilities will be made if requested at least two weeks in advance. Contact Ellen Scalpelli at escalpel@jjc.edu or (815) 280-1400.
Funded in part through a cooperative agreement with the U.S. Small Business Administration and the Department of Commerce and Economic Opportunity and Joliet Junior College.
COVID-19 Update
All Illinois SBDC offerings will follow JJC COVID-19 precautions. Please visit our COVID-19 Information page for the most up-to-date information.
COVID-19 Grants and Loans for Businesses
Illinois Small Business Development Center FAQs
How to Get Started as a Business Owner
Below we list the first few steps you can take as a business owner. Need help? Contact the Illinois SBDC at Joliet Junior College!
Attend the "Starting Your Business in Illinois" Workshop.

The first step in getting started is attending one of our live "Starting Your Business in Illinois" workshops. This no-cost, two-hour informational seminar covers the basic requirements of starting your own business, including the following: legal structure, start-up requirements, finding financing and business planning basics.

Be sure to reserve your seat by signing up today.

Write Your Business Plan.

The business plan is your game plan and roadmap to success! Writing a business plan is important, not only if you are looking for a loan or investment, but to get all your thoughts on paper and work out the details.

The Illinois SBDC at JJC can help guide you in creating your business plan.

Select a Business Structure.

An important choice when starting a business is selecting a legal structure. The most common business entities include sole proprietorship, partnership, Limited Liability Company (LLC) and corporation.

The Illinois SBDC at JJC can help explain the differences between the business entities, the pros and cons of each and how to protect your personal assets. We can go over how to file the articles of incorporation, drafting a partnership agreement, bylaws and much more.

Register a Business Name.

The right name is essential in branding your business. Registering a business name in Illinois varies depending on the legal structure as some entities require a name search and registering with the Secretary of State, while others require with the County Clerk's office.

The Illinois SBDC at JJC can show you how to register and even protect your company name.

Apply for Business Licenses and Permits.

A variety of business licenses and permits may be needed, such as: the federal employer identification number (FEIN) with the IRS, sales tax identification number with the Illinois Department of Revenue, Illinois Secretary of State, Illinois Department of Employment Security, state professional licensing, local business licenses and others.

The Illinois SBDC at JJC can help identify which licenses and permits your business needs.

Find Financing.

There are different sources of financing to start a business. Some of the most common include business loans, revolving loan funds, investors, credit cards and personal funds.

The Illinois SBDC at JJC can help sort out the best sources of funding for your business using your business plan.

Hire Employees.

Hiring employees is a critical yet complicated process, which is important to do correctly. There are multiple federal and state registrations and Department of Labor regulations to be aware of.

The Illinois SBDC at JJC can help show you the steps needed to hire an employee.

Prep for Taxes and Record Keeping.

As a business owner, there are several taxes, which may apply to you - such as self-employment tax, state and federal payroll tax, Illinois sales tax and tax on business profits. It is crucial to track income, deductions and profits/losses for each year.

The Illinois SBDC at JJC can help you understand the tax requirements for your business.

Develop a Sales and Marketing Plan.

Where are your customers going to come from? What is your value proposition? You'll probably need a website that gets potential customers to take action. You may want to promote your services through social media. Are you ready to ask people for their money?

The Illinois SBDC at JJC can help you think about how your marketing and sales strategy will make all the difference in your success.