The Spring 2019 Connections Magazine, prepared by the Joliet Junior College Communications and External Relations Department, is now available for online viewing. Print copies will soon be distributed throughout the community.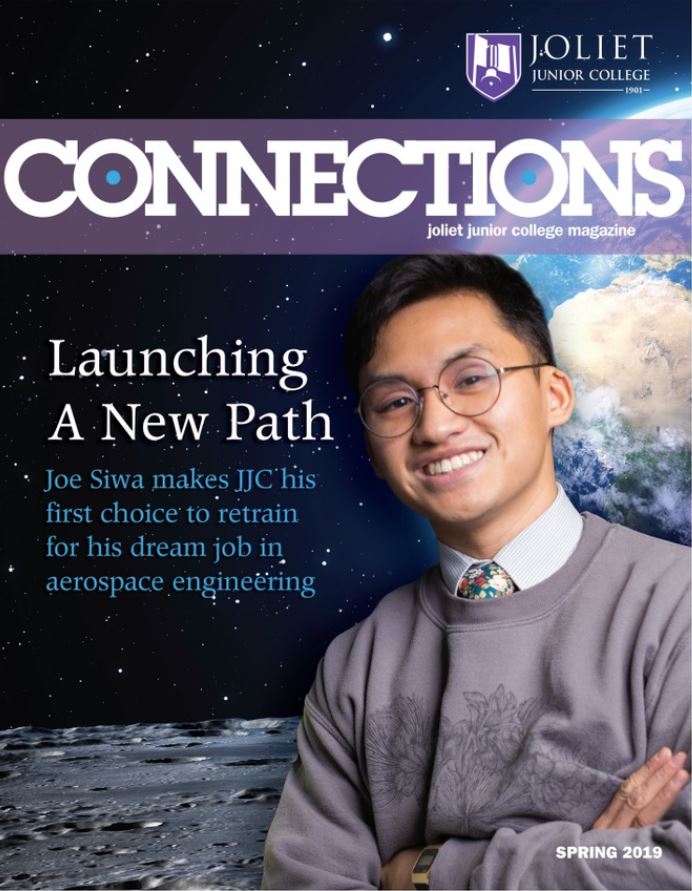 In this issue, we learn about a student's path toward aerospace engineering, a bilateral amputee's quest to help others, and new opportunities for returning adult students. We invite you to explore these great stories and many others to learn how JJC programs, students and employees are making an impact.
Our cover story introduces you to Joe Siwa, whose lifelong fascination with space encouraged his pursuit of a career in aerospace engineering. But personal and academic challenges forced Siwa to reexamine his goals, which led Siwa to change his major to culinary arts. However, his passion for the great beyond never faded, and Siwa said his JJC culinary experience gave him the confidence he needed to give his first love a second chance.
Also in this issue, learn how students in a new cohort program can seek a High School Equivalency and JJC certificate simultaneously, and about the newly established Dr. Hal Dellinger Fine Arts Collection in the JJC Archives. Additionally, we learn about a bilateral amputee student's quest to help others needing prosthetics, and pay tribute to JJC Head Baseball Coach Wayne L. King, Jr., who is retiring after 33 years.
Magazines will be mailed to roughly 25,000 donors, alumni, community organizations, elected officials, and community leaders. The Communications and Marketing Division will have limited print copies available for those interested.